As a premier content management system, WordPress enables business owners, such as yourself, to take charge of your website content – giving you the power to organize and publish pages and blogs on your own schedule, without the help of a developer.
The easy-to-use features of WordPress means you have more time to focus on what matters most – your business.
WordPress Website Development Services
At TheeDesign, we understand the importance of having a website that enables you to achieve your goals. That's why we tailor our WordPress development services to each individual client, ensuring that your website engages with your audience and drives conversions.
Our designers and developers can take WordPress' blank canvas and create a modern, lead generating website that represents your brand and company values.
Below are just a few of our WordPress design and development services:
Custom plugin development
Custom theme development
Professional copywriting
Google Analytics integration
Cross browser testing
Cross device testing
Not only will we design and develop your WordPress website, but we'll also give you the tools you need to edit and add pages, publish blogs, and view your site's contact form submissions. Our thorough WordPress training will help you manage your new website with ease and confidence.
WordPress Benefits
Easy to Use
Enables all users, no matter their skill level, to update and publish content and images.
SEO Friendly
Built-in SEO functionality to boost your website's visibility in the search results.
Customizable
Customize with HTML5, CSS3, plugins and other standard website technologies.
Mobile Ready
Uses responsive web design to adjust to laptops, tablets, and smartphone devices.
WordPress Success Stories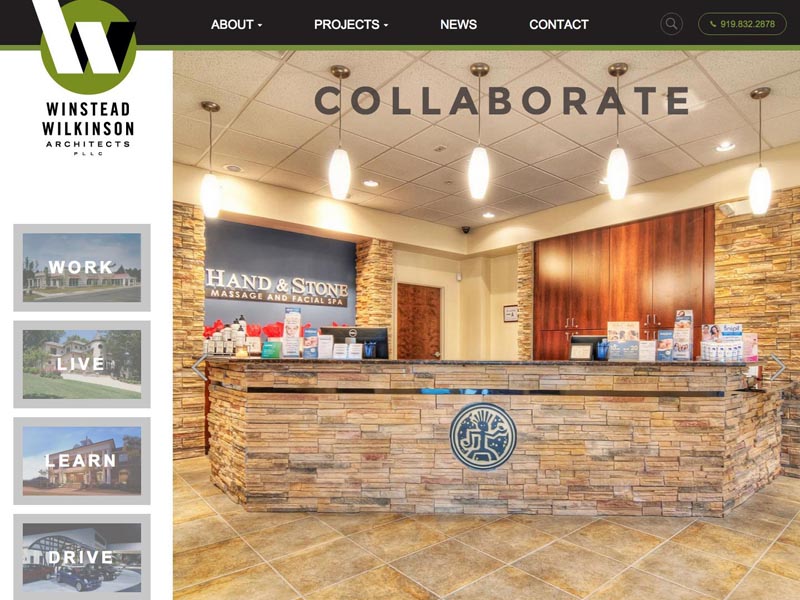 Winstead Wilkinson Architects
Winstead Wilkinson Architects is a Raleigh-based commercial architecture firm. Take a look at their new mobile-friendly WordPress website to see how we helped them showcase their amazing craftsmanship.