Studies have proven that a well-designed and optimized legal website has proven to convert visitors into new clients. This is because when clients are googling for services in your area, they are looking for guarantees of professionalism and good service. A well-designed website for law firms is your first chance to prove to these potential clients that you are the professional legal counsel that they want. In addition, a website not only offers contact and location information for your law firm, but it also provides important information about the services and support you can provide for prospective clients. This means that, depending on your design, you can comfort the client's worries not only with your design but also with the content on your website.
Since 2004, TheeDesign has been building custom websites for a number of law firms and attorneys local to Raleigh and its surrounding cities. All of our websites are search engine optimized for attorneys, easy-to-navigate, and easy-to-update. In addition, we devote a substantial amount of time to developing attention-grabbing call-to-action features and designing your site so that people are enticed to come to you for their divorce, separation, or child support agreements.
Website Features for Law Firms & Attorneys
TheeDesign offers a variety of features made for website conversion optimization on law firm and attorney websites. The features we provide include:

SEO-friendly Content
Practice Area Landing Pages
Case Results
Attorney Profiles
Why Pick TheeDesign
TheeDesign has worked with countless clients within the legal industry, including one of the largest law firms in the state of North Carolina. Our Legal SEO marketers are highly knowledgeable about your industry and know the secret into attracting and converting those prospects into ongoing clients. Due to their extensive practice with multiple different legal clients, they also understand the unique challenges and opportunities specific to the legal industry, and even to particular sub-industries such as DUIs or divorce. With this experience on our side, we can work to get your site before thousands of viewers and get you the high-quality leads you want for your legal website.
Not only does TheeDesign offer seamless web design and development, but we also provide you with a full-service legal marketing plan to ensure your law firm is built to succeed. From SEO, social media, to PPC and email marketing, our team does it all, and we understand how to do it best for legal web sites.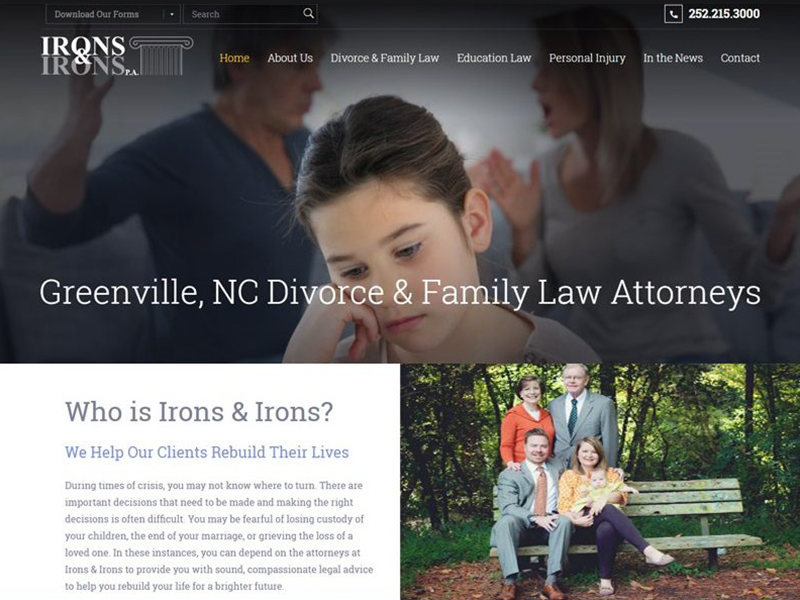 Irons & Irons, P.A. is a divorce and family law firm based in Greenville, NC. Read how we were able to transform their website into a conversion-making machine!
The web design and SEO marketing team at TheeDesign is truly exceptional. My project manager worked diligently throughout the design phase to make sure that the site exceeded my expectations. Many thanks to all of you. It's been a pleasure.
Gib Irons
Attorney at Irons & Irons P.A.