Magento is a high performance and scalable shopping cart solution for fast-growing and large online businesses.
It comes with enterprise-class features that our Magento developers can tailor to your unique needs.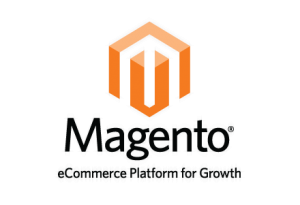 The platform includes advanced SEO features that our ecommerce marketing experts can configure to drive more traffic to your online store and convert browsers into buyers, and boost online revenue.
More than a quarter million online merchants worldwide put their trust in the Magento shopping cart platform. This powerful ecommerce system combined with our Magento development expertise can give you the tools you need to attract more prospects, sell more products, and make more money.
Magento features advanced merchandising tools to boost conversion rates, integrated Google Tag Manager to easily tag your site for campaigns and reporting, and a mobile app toolkit to expand your mobile reach and sales.
Our Magento developers can customize back-end workflows to your internal processes and integrate with other applications like retail order management, store fulfillment systems, and retail associate platforms.
Why Choose Magento?
Versatile
Seamlessly integrates within your current WordPress site for easy access and management.
Mobile Friendly
Accessible on mobile and tablet devices for easy purchasing on-the-go.
Report and Track
Real time product and sales tracking allows you to make better business decisions.
Drive Online Sales
Boost sales and revenue with SEO, 3rd party vendors, and advanced reporting.
Advanced SEO
Advanced search engine optimization tactics to boost your organic website traffic.
3rd Party Integrations
Connect with 3rd party vendors to maintain relationships and increase sales.
Our Magento Web Development Services
Our Magento web developers will work with you to develop a comprehensive ecommerce strategy, one that converts shoppers into buyers.
Buyer journey mapping
Secure payment gateways
Built in tracking & reporting
Inventory management
3rd party vendor integration
Shipping fee calculations
SSL Certification installation