Overview
TRUgaming is a community that was founded with the mission in mind to change the status quo. The founding members of TRUgaming were fed up with the high hosting prices by game service providers (GSPs), disappointing customer service, and the way the current system was set up for gamers. Originally created as a gaming community, TRUgaming evolved into a dedicated gaming and voice server provider that strives to challenge the status quo of traditional GSPs.
The distinct culture of TRUgaming called for a powerful website to match. TheeDesign became a part of the cause and developed a new ecommerce website for the GSP.
The Challenge
Established only three years ago, TRUgaming has already cultivated a following of thousands of gamers from all across the nation. Their culture was contagious and their services attractive to the many gamers who shared the founders' struggle of gaming with traditional GSPs. The website had to visually appealing, easy-to-use, and have the ability handle the volume of traffic and scale for future growth.
The Solution
TheeDesign's ecommerce web designers quickly identified key areas where a new website could add value and went to work to develop the ultimate community shopping experience. TheeDesign designed the site to align with TRUgaming's brand and vision, and developed custom features that streamlined the buying process. From mobile-first design to setting up a subscription-based system, TheeDesign's WooCommerce solution greatly enhanced TRUgaming's website.
WooCommerce Ecommerce Platform
The first was setting up the back-end using WooCommerce. WooCommerce is a dynamic ecommerce platform that can manage the online buying/selling of game servers, voice servers, and TRUgaming merch. Users can browse game servers, voice servers, choose a server location closest to them, and sign up for reoccurring billing. TheeDesign even set up a subscription functionality. Now, when users buy space on the game server of their choice, they can automatically sign up for a subscription to that server.
Game Server Page Design
The old website was not very engaging and did not present the different game servers in a fresh, modern way. TheeDesign revamped the game servers page, adding interactive roll-over features, call-outs of key selling points, and an "All Games" feature that sorted game servers by letter in real time.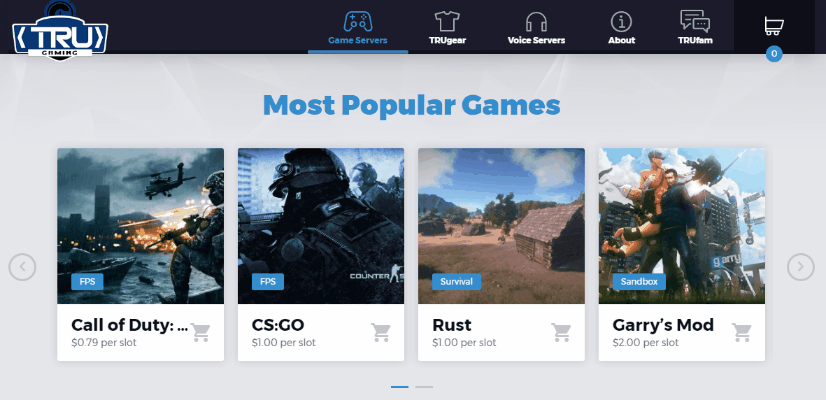 Hover over to see the new responsive site.
Frictionless Mobile Shopping Experience
To create an optimal user experience and remain competitive in the mobile search results, TheeDesign developed TRUgaming's new website to be 100% mobile-friendly.
Interactive Features
Each game server page features video footage from actual game play. An interactive slider allows the user to select the number of players they'd like to sign up for on the server, and automatically adjusts the price accordingly.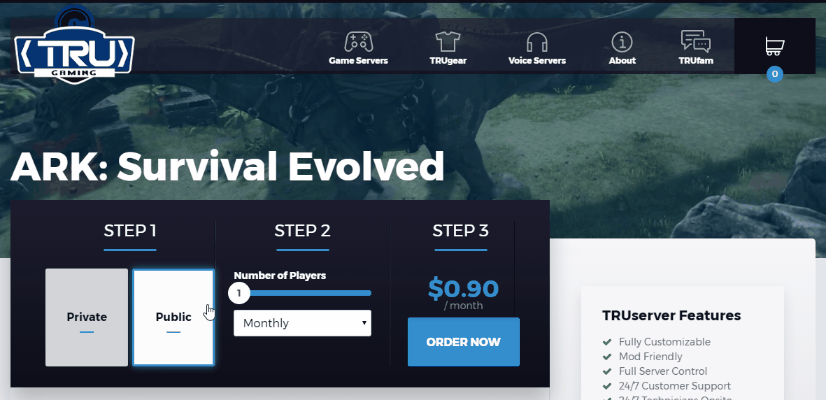 Price Comparison
TRUgaming's mission is to set themselves apart from the "other guys" and provide a quality gaming experience "for gamers, by gamers." True to this, TheeDesign included a pricing comparison table right on the game server page. Server features and user management capabilities are also listed on the page to show users just what they're getting with TRUgaming.
Voice Servers Features & Capabilities
Previously, the voice servers page was laid out with three service choices. There was no other detail available for users to compare voice servers and assist them along the buying process. Now, the voice servers page includes a comparison table, that compares the features and capabilities of the voice servers, allowing users to choose the right option for them.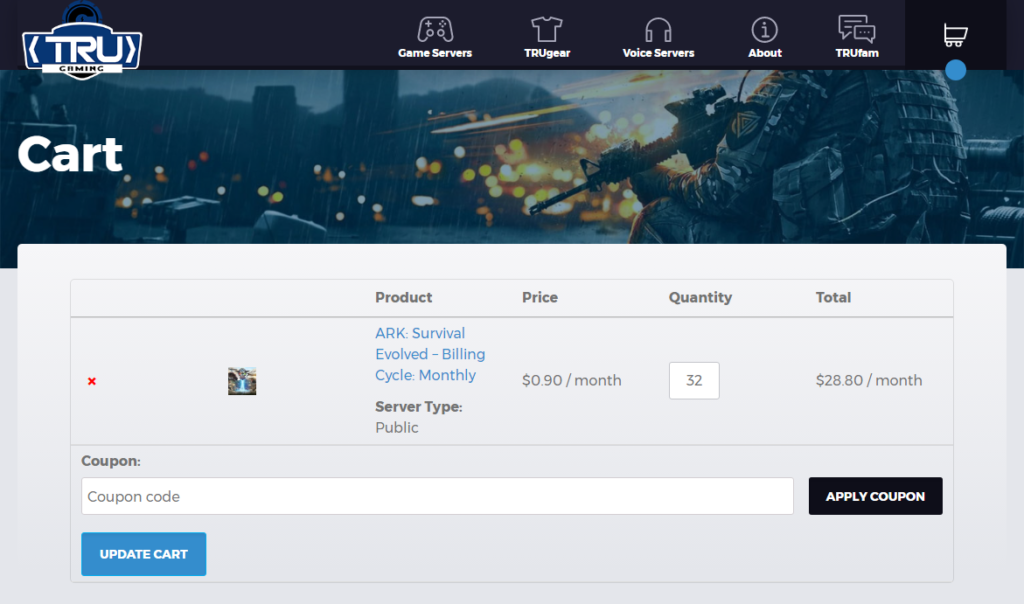 Shopping Cart Optimization
To create the best possible shopping experience, TheeDesign developed a new shopping cart with improved features.
The Results
TRUgaming came to TheeDesign wanting a unique user experience that reflected their organizational culture. TheeDesign also ensured the goal of making the shopping experience as seamless and enjoyable for the user as possible.
Before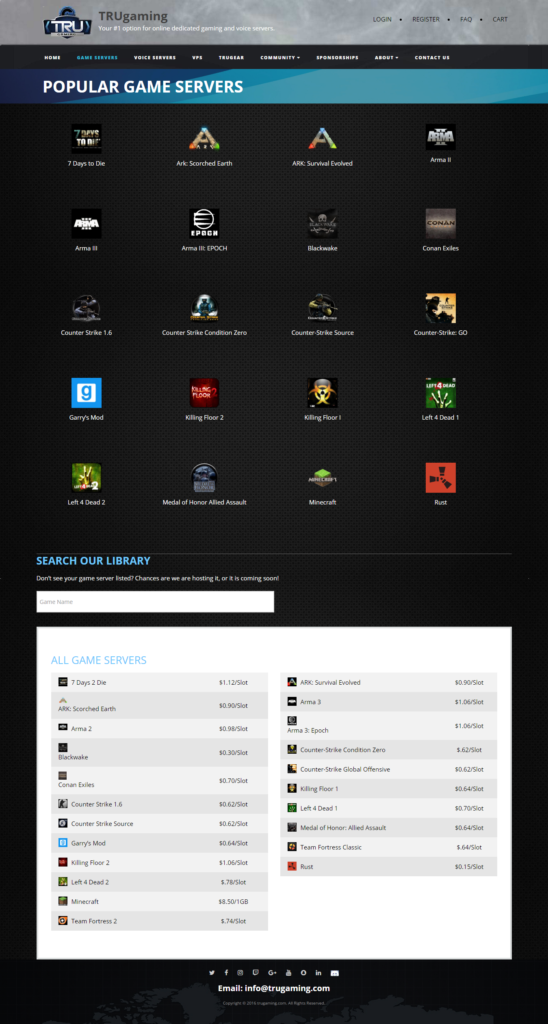 After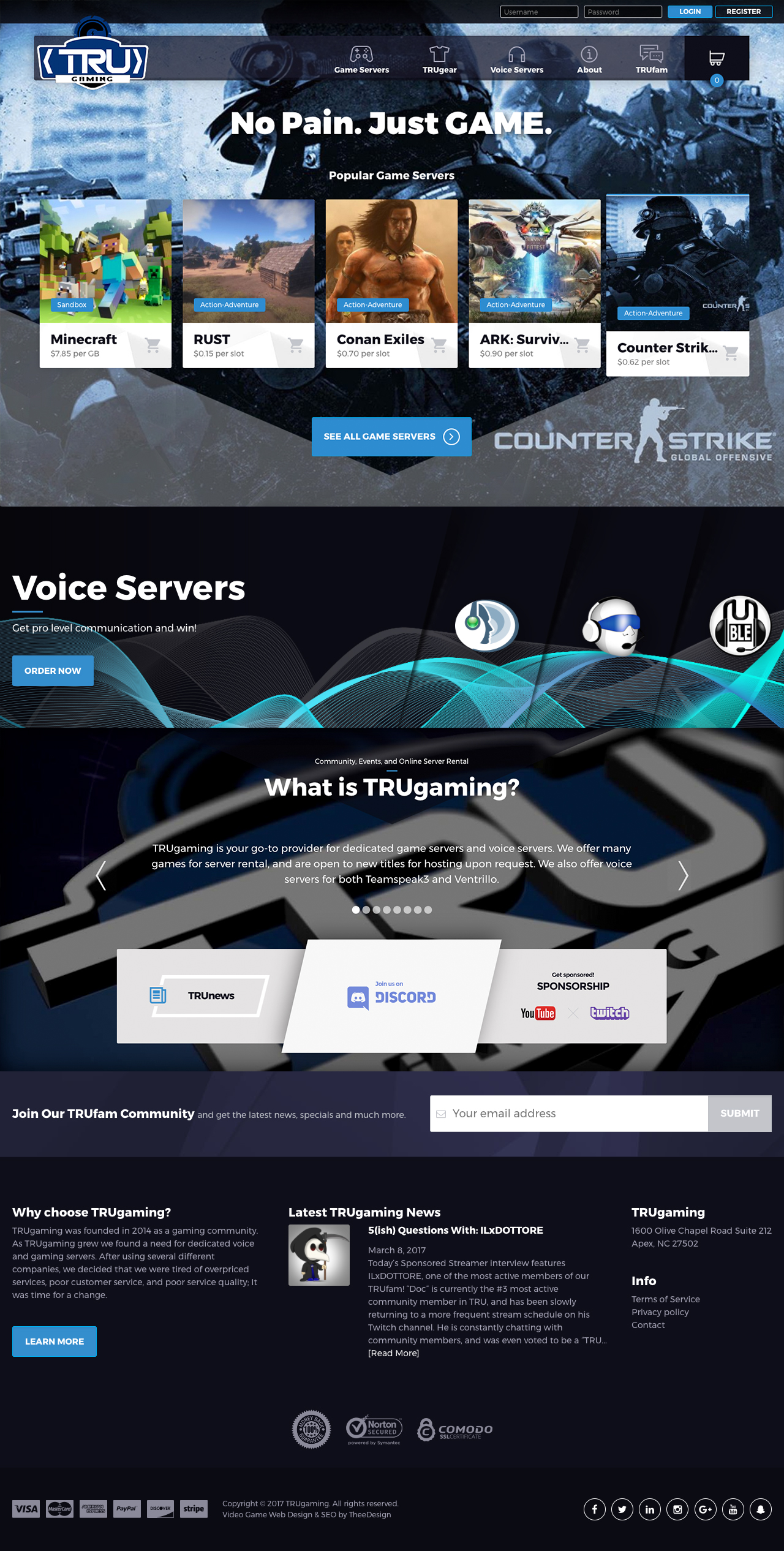 Customer Testimonial
"We've had a wonderful experience working with TheeDesign."
"We've now taken on SEO with them, which only shows you how awesome it was to have a fabulous website design process with them, and now also SEO."
"I would completely recommend TheeDesign to anybody and everybody looking for a web design company."
Spotlight: TheeDesign's Rock Star Project Manager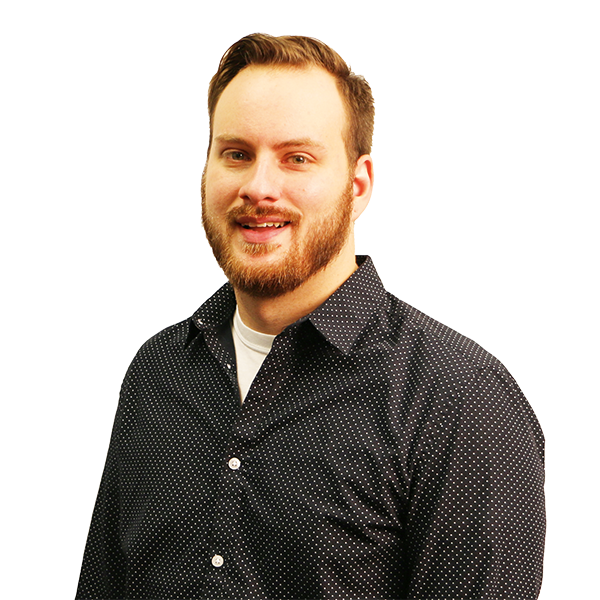 Mat has been responsible for a number of our latest, most innovative web design projects. His knowledge in ecommerce web design, custom development, and his strategic mindset for offering up new ideas have helped businesses of all sizes enhance their web presence.
Working with TRUgaming has been a great experience. They brought so much energy to the project and really had a clear vision of what they wanted while giving us full creative freedom to come up with a great design and user experience. I'm excited to have had the chance to help this company further their mission and change the status quo in the gaming industry!"