Case Study: Google AdWords for a Regional Trailer Sales Company
A leading East Coast trailer sales company needed to improve its online presence and generate more revenue. TheeDesign's Google AdWords certified specialists partnered with the trailer dealer and implemented a PPC strategy that produced 370% more clicks, curtailed acquisition costs to just $5 per conversion, and optimized ad spend.
Now a long-term client, our ongoing marketing efforts continue to grab digital market share for the trailer company. This case study reveals how such remarkable results were achieved.
The Challenge
Like many other businesses, the regional trailer company was running a self-managed Google AdWords account. Promoting such a large inventory of trailers, parts and accessories, and services across multiple locations up and down the East Coast proved to be difficult to manage, time-consuming, and costly. Adgroups to promote the different types of trailers were being dog-piled into one massive campaign, which limited precise bidding, restricted targeting capabilities, and drove cost-per-conversion up into the triple digits. Up against stiff competition, the trailer company's time, budget, and resources were being poured into the PPC effort with little result.
The Solution
TheeDesign had just build a new WordPress website for the trailer dealer, and our certified PPC specialists overhauled the Google AdWords account to re-build ad campaigns that reflected the new site structure. Along with other best practices, ad copy was meticulously written based on market research and user behavior, and the revamped campaigns transformed AdWords into a valuable ROI-positive tool. The ads immediately began generating phone calls, quote requests, and leads for trailer financing. With TheeDesign's professional paid search management, the regional trailer company receives more conversions from the powerful PPC campaigns.
The Results
$
0
Less Cost Per Conversion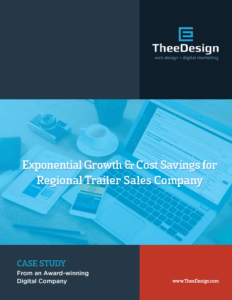 TheeDesign's suite of web design and digital marketing services kick-started the trailer dealer's online presence to achieve their business goals and deliver a 964% increase in traffic over the lifetime of the partnership (Yes, you read that right: 9x more qualified website traffic!). That's upwards of 100,000 sessions per month.
And the paid search results are even more impressive: Our Google AdWords specialists optimized the trailer dealer's PPC campaigns to outpace the competition, gaining a 370% increase in clicks and dropping cost-per-conversion down from $750 to under $5 per conversion.
Get the full story on how we used PPC and digital marketing to bring about this customer success. Download the case study.