Overview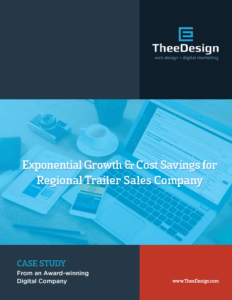 A leading regional trailer sales company on the East Coast needed a new website and updated digital strategy to stay competitive in their market. TheeDesign's award-winning web designers collaborated with our Premier Google Partner digital marketing team to build a beautiful, user-friendly website backed by a powerful ongoing marketing effort. TheeDesign exceeded the company's original goals, including amplifying web traffic to upwards of 105k sessions per month, and continues to add value as a strategic partner for the long haul.
Read the full case study to see how we achieved mind-blowing results, such as:
964% boost in website traffic
370% increase in ad clicks
427% more Facebook Likes
The Challenge
Web Design
The trailer company understood the importance of having a website and wanted a more functional site for their sales team and customers. However, their old website posed several problems: the site was outdated and poorly organized; and the website was not responsive, making it practically unnavigable on mobile devices.
With no clear site structure, this made it difficult for the company to showcase the many trailers and trailer accessories that they offered.
Digital Marketing and SEO
TheeDesign was tasked with making the regional trailer sales company a competitive force online. They wanted to rank well for highly competitive terms and to target the greater East Coast — a detail that made a big difference of how their digital marketing and SEO needed to be approached.
TheeDesign saw an opportunity to work with the regional trailer sales company on connecting the big picture of their omnichannel approach, and draw the connection between offline and online marketing efforts.
The Solution
Responsive Design and Categorization
With the goal of a responsive website and "making the phone ring," TheeDesign's team of custom WordPress web designers went to work to develop the new face of the trailer sales company.
Trailers now can be categorized in multiple ways and customers from across the country can easily browse the inventory and request a quote with a click-of-a-mouse. Clear calls-to-action and a streamlined website structure make browsing the new website faster, better, and much more enjoyable, making customers more likely to make a purchase.
SEM, Content Marketing, and Social Media
TheeDesign's SEM specialists optimized the site's data and to build high domain rank links to the site, focusing on NAP consistency.
TheeDesign also crafted a content marketing strategy for the regional trailer company and utilized their social media channels to amplify the impact of the content. In return, these strategies began to evolve the regional trailer sales company's marketing and take their website to the next level.
The Results
0
%
Boost in Facebook Likes
Since first establishing our partnership in 2014, TheeDesign has helped the regional trailer sales company achieve a 964% increase in traffic — that's more than 100,000 sessions per month! The trailer company's content and social media marketing has also continued to thrive, as evidenced by their 427% increase in Facebook likes since first adding social to their marketing arsenal in March 2015.
Through our suite of digital marketing and SEO solutions, TheeDesign has built the regional trailer sales company's new domain up into the top-ranking, major lead-generating website in their industry.
---
Stats So Good, You'll Need to See It To Believe It