Overview
In his hometown of Mount Airy, North Carolina, (also known as Mayberry), Troy L. Payne Jr. started T.P. Supply Company, Inc. in 1979. A purveyor of fine industrial storage and material handling supplies, Troy grew his small company into a national supplier with 35+ employees and 13+ acres of inventory. While the folks at T.P. Supply have always held true to the traditional small town values that Mayberry was famous for, they needed to bring their online shopping experience into the 21st century.
T.P. Supply Company's outdated website needed a good old fashioned makeover, and TheeDesign gladly obliged. Built on WooCommerce and WordPress, TheeDesign created a responsive, easy-to-use ecommerce solution that came out lookin' mighty fine.
The Challenge
T.P. Supply Company has a large catalog of products, with a lot of different sizes, variations, weight capacities, and other important attributes. Finding the right product can be challenging, like trying to find the right size nut or bolt at a large home improvement store.
Online shoppers, especially those on mobile devices, can have very short attention spans. Visitors need to be able to find what they are looking for quickly and easily.
The Solution
TheeDesign's ecommerce web designers started by categorizing T.P. Supply Company's products into an intuitive, multi-tiered hierarchy. This helped to organize the large product catalog into a structure that is less overwhelming to the visitor.
TheeDesign also implemented advanced filtering capabilities to enable visitors to search by a variety of attributes such as length, width, depth, brand, and capacity. Visitors searching for something very specific, like a product ID, can use the instant search feature with auto-suggest functionality.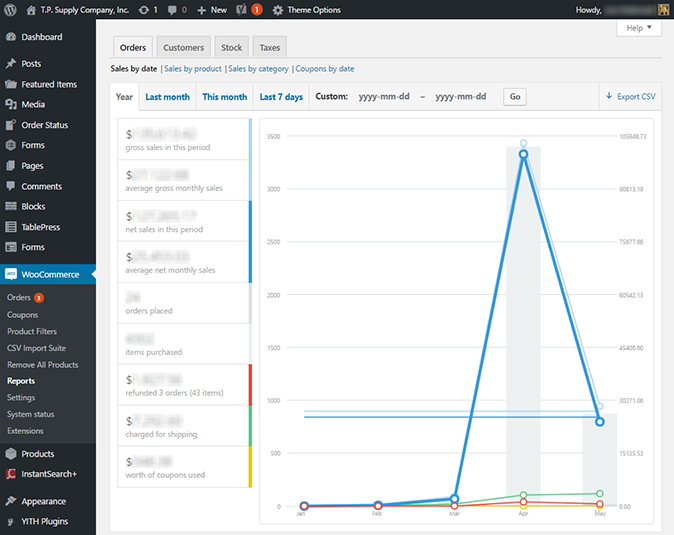 WooCommerce Ecommerce Platform
TheeDesign's chose WooCommerce for T.P. Supply Company's ecommerce platform for its ease of use and robust functionality. In addition to a silky smooth front end shopping experience integrated with a dynamic freight calculator and a streamlined checkout process, TheeDesign extended WooCommerce with advanced user account features as well. Registered customers can save payment methods and shipping addresses, create wish lists, view past orders, and check the status of current orders.
In the backend, site administrators can manage and track order progress through different stages of the fulfillment process, run custom sales reports, and integrate with third party accounting software.
Google AdWords Management
TheeDesign's certified Google AdWords specialists created custom tailored single keyword ad groups for the different products in T.P Supply's large catalog. With custom text ads and dedicated landing pages for each individual keyword, visitors are sure to see ads that are highly relevant to their search query and land on pages that are perfectly matched to their needs.
With dynamic remarketing ads set up by TheeDesign, those visitors who don't convert to sales on their visit will continue to see highly relevant banner ads specifically based off the pages or products they viewed.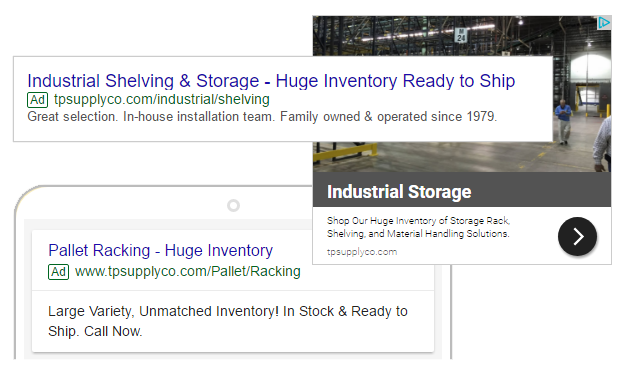 Google Shopping Campaigns
To gain maximum reach on search, TheeDesign added T.P Supply Company's product catalog  to Google Merchant center and set up Google shopping campaigns. Due to the visual nature and placement of shopping ads, shopping campaigns come with a number of benefits, including higher click through rates and a lower cost per click than standard text ads.
For added convenience, TheeDesign configured T.P. Supply Company's WooCommerce catalog to automatically sync with Google Merchant Center's product feed — no spreadsheets necessary!
The Results
With their old site packed safely away in storage, T.P. Supply Company's customers can now enjoy an ecommerce shopping experience that is friendlier than a Mayberry handshake.

Before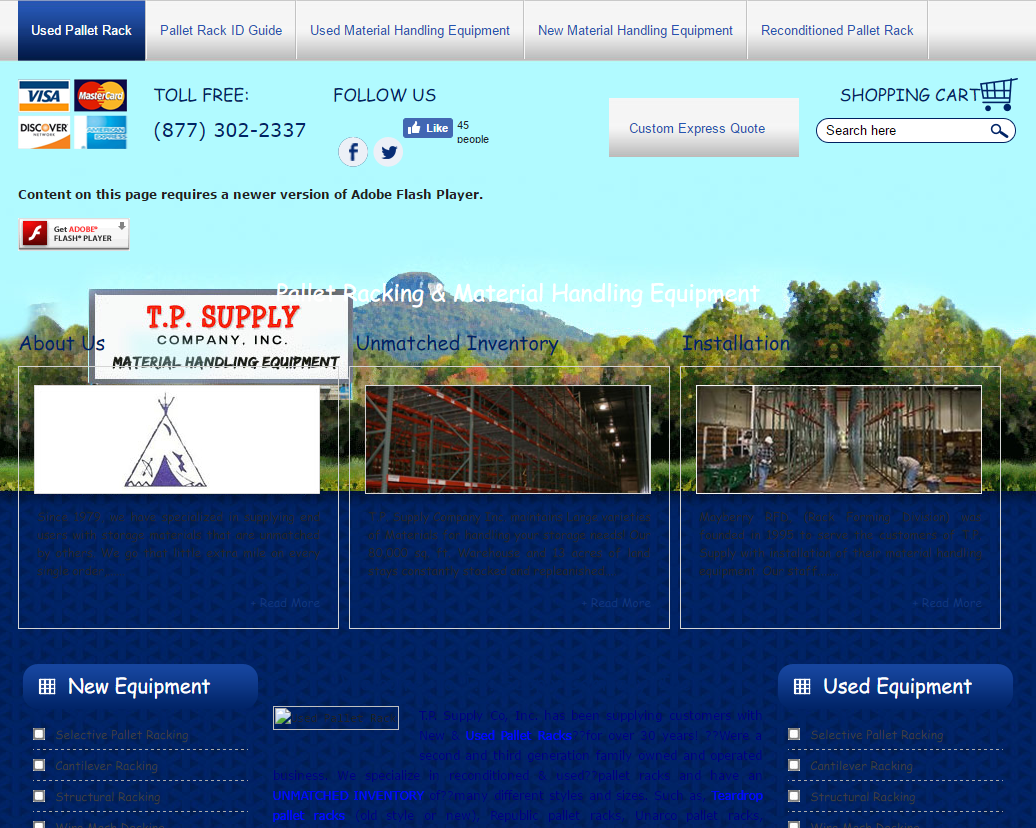 After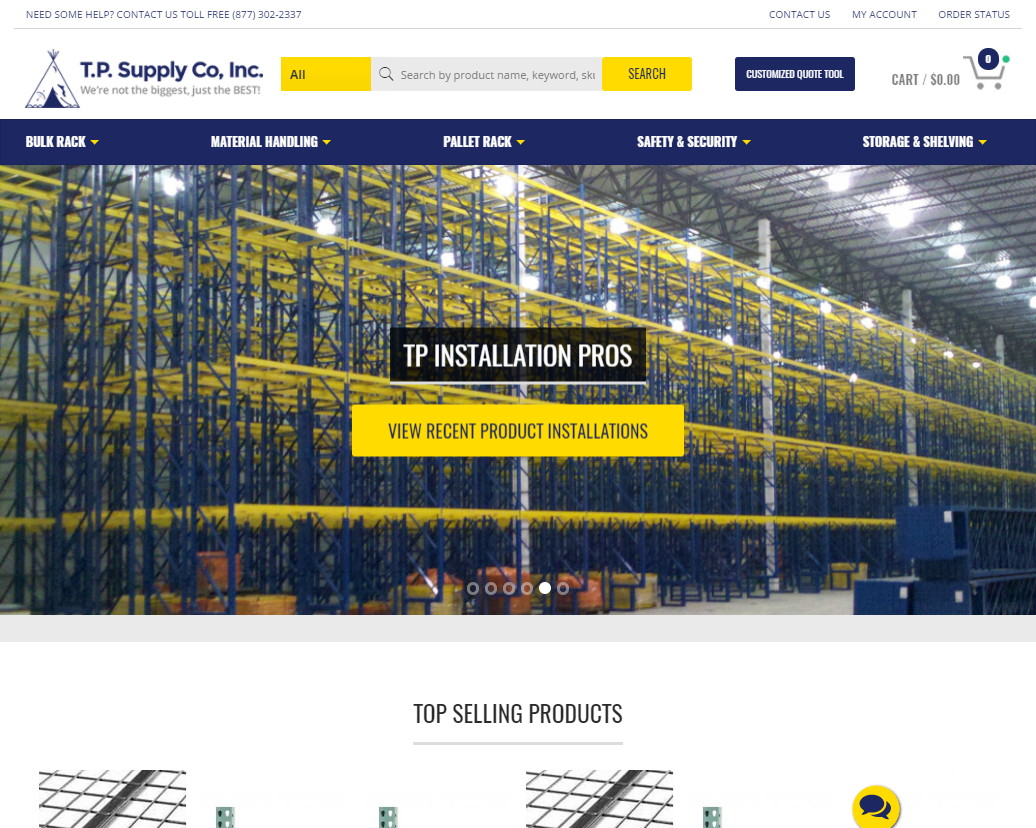 T.P. Supply Co.'s New Website