Overview
S.T. Wooten Corporation is a family owned and operated heavy construction firm in North Carolina, and one of the state's most respected businesses. Having served North Carolina for almost 60 years, they continue to focus their commitment on the customer and community with quality, safety, and timelessness as the cornerstones of their backbone and values.
S.T. Wooten Corporation was looking for a North Carolina-based web design and development company that could create a professionally-appropriate website that would operate on a cutting edge content management system. They did an extensive search online and found TheeDesign Studio. After looking through our web design portfolio, S.T. Wooten Corporation gave us a call.
The Challenge
S.T. Wooten Corporation's website was on the verge of being outdated. As a major North Carolina heavy construction firm, they needed their website to portray the award-winning company that they have become while adhering to the companies values, such as modesty and fostering a genuinely caring environment for their employees. Giving their site a fresh look with a user-friendly interface that would easily adapt to changes in the future was a must for their new website.
The Solution
Understanding that S.T. Wooten Corporation wanted to stay true to their company's conservative values, TheeDesign Studio created a high-end, yet functional and easy to manage, WordPress website. Their site features a user-friendly interface giving their employees the ability to update and maintain without the use of a developer. The site includes an online price calculator and asphalt pricing index to provide unofficial estimates, on-site news, a custom interactive map to locate the closest S.T. Wooten Corporation representative and an online contact form for communication.
They now have a website that conveys their company culture on a user-friendly platform.
Custom Concrete Calculator Tool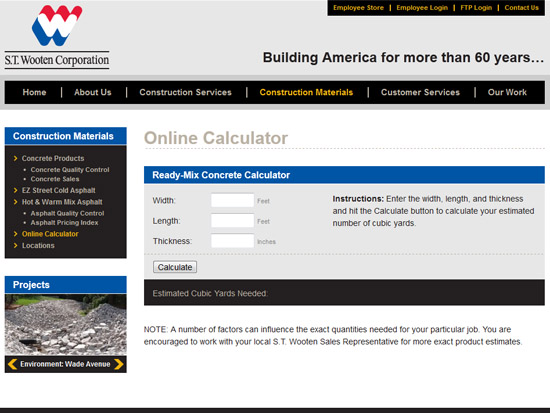 TheeDesign's custom WordPress developers designed a Concrete Calculator tool featured on S.T. Wooten's new website.
The New Website