Overview
Neomonde is a "Best in the Triangle" bakery and café, with locations in Raleigh and Morrisville, NC. Owned by two brothers who wish to act as ambassadors to Lebanese cuisine, the family shares their passion for making the best food possible with a traditional style of slow cooking, fresh ingredients, and a dynamic menu.
The Challenge
The outdated, traditional website Neomonde was using allowed for limited guest interaction and maintained a functional, but overwhelming online ordering menu.
Not only was TheeDesign tasked with bringing the site up to modern standards, but also to separate out the wholesale bakery business from the retail operations and integrate a new online ordering system.
The Solution
TheeDesign tackled the division of Neomonde into retail and wholesale operations by creating a split home page. Acting like doors to different areas of the business, one side accesses the "Restaurant & Catering", while the other leads to the "Bakery".
Both sides of the site have a navigation menu and layout that is specific to the needs of that operation while maintaining the continuous feel of one, unified site. TheeDesign was able to customize the new online ordering system to maintain that unified feeling.
The Results
Two sides of the contemporary website lead you to two sides of the now bustling bakery business: one for their retail operations and the other to their wholesale distribution. TheeDesign was able to keep the spirit of storytelling that existed in the old site while making the new site as vibrant and warm as Neomonde. Guests can now access the colorful catering menu and online ordering system with ease.
After building a new website for the restaurant, TheeDesign now assists in the digital marketing efforts, as well. One of the tactics used is email marketing. With TheeDesign, Neomonde's first email newsletter achieved a 60% open rate. And there's much more currently in store for the Raleigh restaurant and bakery!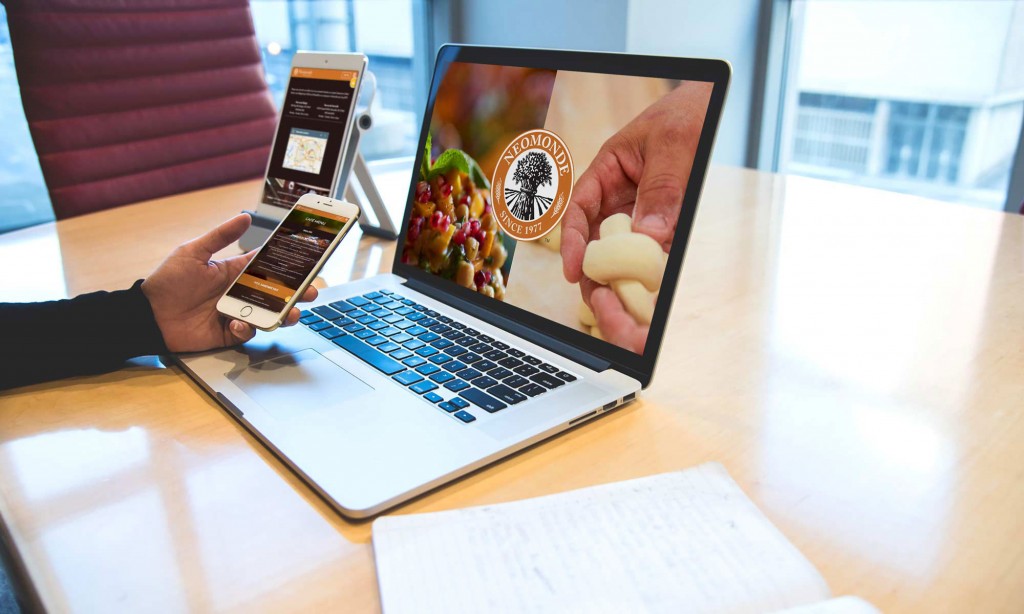 Designing for Mobile & Tablet Devices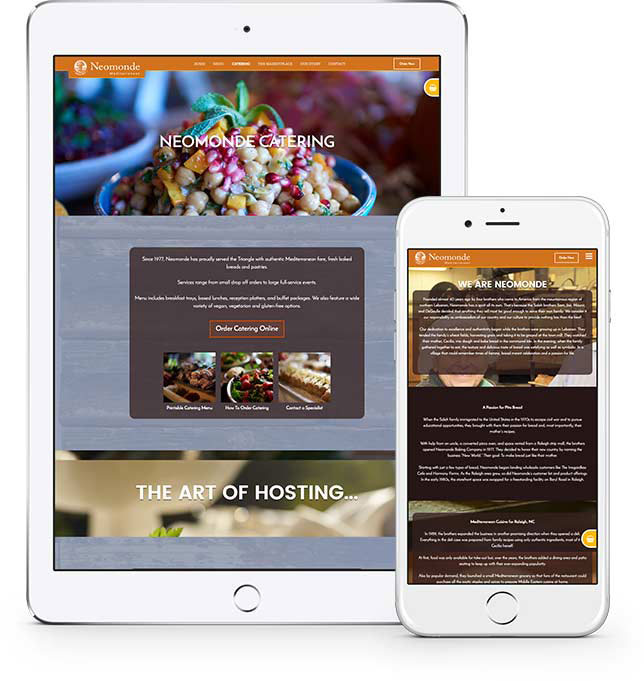 Neomonde's new website is designed for mobile and tablet devices, giving users the best browsing experience no matter what device prefer to use.