Overview
NC Solar Now is North Carolina's #1 residential rooftop solar installer, according to Solar Power World. Since its founding in 2010, the company has installed 4.5 MW of solar. The company is dedicated to providing renewable energy options for consumers, while educating them on how to save money in the process.
TheeDesign's team of custom WordPress developers and pay-per-click (PPC) advertising specialists met the goal of creating a beautiful website that converts into sales for the leading solar panel installer.
The Challenge
NC Solar Now had an outdated website. It was not mobile-friendly and the homepage lacked the ability to highlight the high-level of quality services that NC Solar Now provides to its clients.
In order to remain at the top of Google's rankings and to outshine their competition, even more, NC Solar Now decided it was time to redesign their website. In addition to a website redesign, they also wanted visitors to be able to have an interactive calculator they could use to calculate their monthly energy spend. They contacted TheeDesign, knowing we would be able to help them achieve digital success.
The Solution
With NC Solar Now's digital goals in mind, TheeDesign worked step-by-step with NC Solar Now to tailor-fit a website that met their unique requirements. We designed and developed an aesthetically pleasing website that represents NC Solar Now's vision and brand. Not only that, but the website is now built on WordPress, which allows anyone at NC Solar Now the ability to update the content and images on their own.
We worked directly with the NC Solar Now's team on every phase of the project, ensuring that each page, call-to-action, and image met their exact needs. A Premier Google Partner, TheeDesign's PPC experts also accelerated the success of NC Solar Now by managing strategic Google AdWords text and video campaigns.
The Results
0
Platinum Award-winning Web Design
0
%
Increase in PPC Conversions
0
%
Jump in Number of Page Views
TheeDesign developed an award-winning website for NC Solar Now. NC Solar Now took home a 2017 Platinum AVA Award for its clean, modern, design. On the homepage, visitors are immediately met with a stunning video background that visually displays NC Solar Now's high quality work.
The website also showcases a great call-to-action at the bottom of each page as well as an integrated contact form on each page which helps increase leads and makes it easier for visitors to take action.
TheeDesign didn't just create another pretty website, but rather a website that has become a strong lead-generating tool. Working with NC Solar Now's team we created a website that would attract prospective clients and convert them once they arrived. It really is a big difference between what we do vs. what their competitors do. We built this website as a sales generator tool that gets results.
Custom Slider Quoting Tool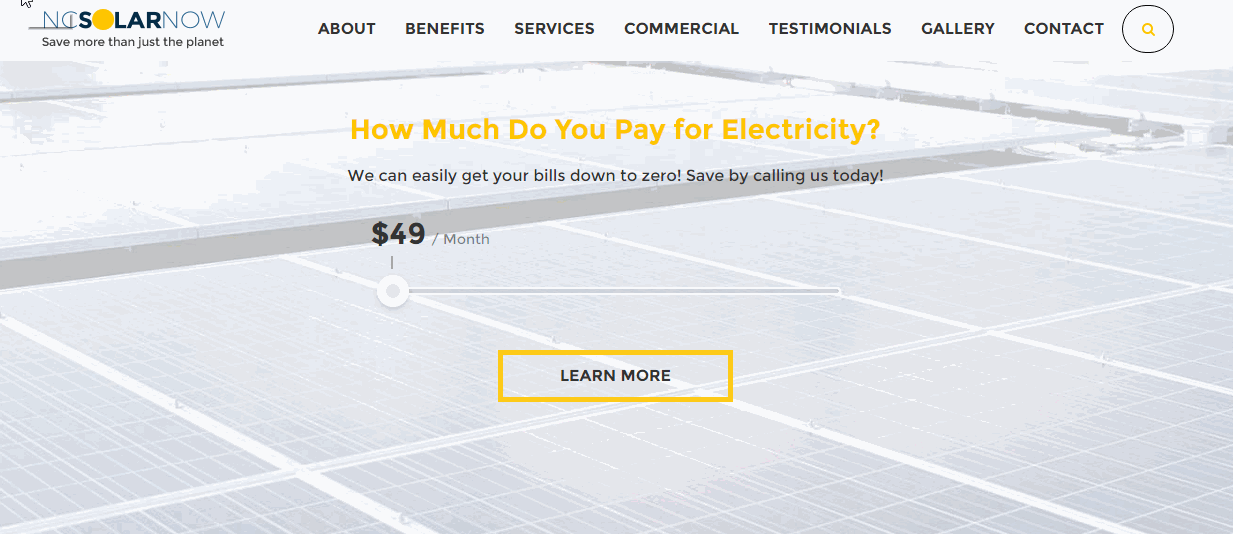 NC Solar Now wanted to feature a special tool on the website that helped customers get a better idea of the cost-saving advantages solar panels could provide.
Keeping inline with the goal of creating a fresh looking website, while still maintaining its effectiveness as a sales tool, TheeDesign developed the custom slider that puts NC Solar Now's homepage over the top!
The New "Electric" Website Design