Overview
Mid-Atlantic Crane is a full service provider for overhead cranes and related material handling equipment. For over 35 years, they have worked with businesses to design, manufacture, install and service specific material handling equipment – providing honest and fair work that creates and maintains relationships to exceed customer expectations.
The Challenge
Mid-Atlantic Crane had an outdated website with under-performing content. They knew that they weren't fully capitalizing on their online experience and were getting lost in search engine shuffle.
With their competitors having high-profile, smooth website designs, Mid-Atlantic Crane knew they needed to redesign their old site in order to prove their value in the industry and WOW their customers.
After doing considerable search on local web design companies, they decided to partner with us on their website redesign journey.
The Solution
To give Mid-Atlantic Crane a competitive edge online, we decided to build their new website on the content management system, WordPress. This would allow the Mid-Atlantic Crane team to easily update their website as they continued to grow.
We worked hand-in-hand with their team to create a simple, yet smooth design that easily showcased their products and services on desktop, tablet, and mobile devices.
The Results
Mid-Atlantic Crane's newly redesigned website is now modern, simple, and aesthetically pleasing. The site uses responsive web design technology to show on smartphones and tablets. Their new homepage allows them to showcase their products while competing with industry leaders.
The website uses strong calls-to-action throughout to help visitors take specific actions. The top right corner of the site features 'Request a Quote' and 'Request Service' buttons to make it easier for people to quickly navigate to where they need to go.
Their new site met all of their design-related goals, and will allow them to transition from a regional company to a national company. Take a look at their new site below.
Mid-Atlantic Crane's Website Redesign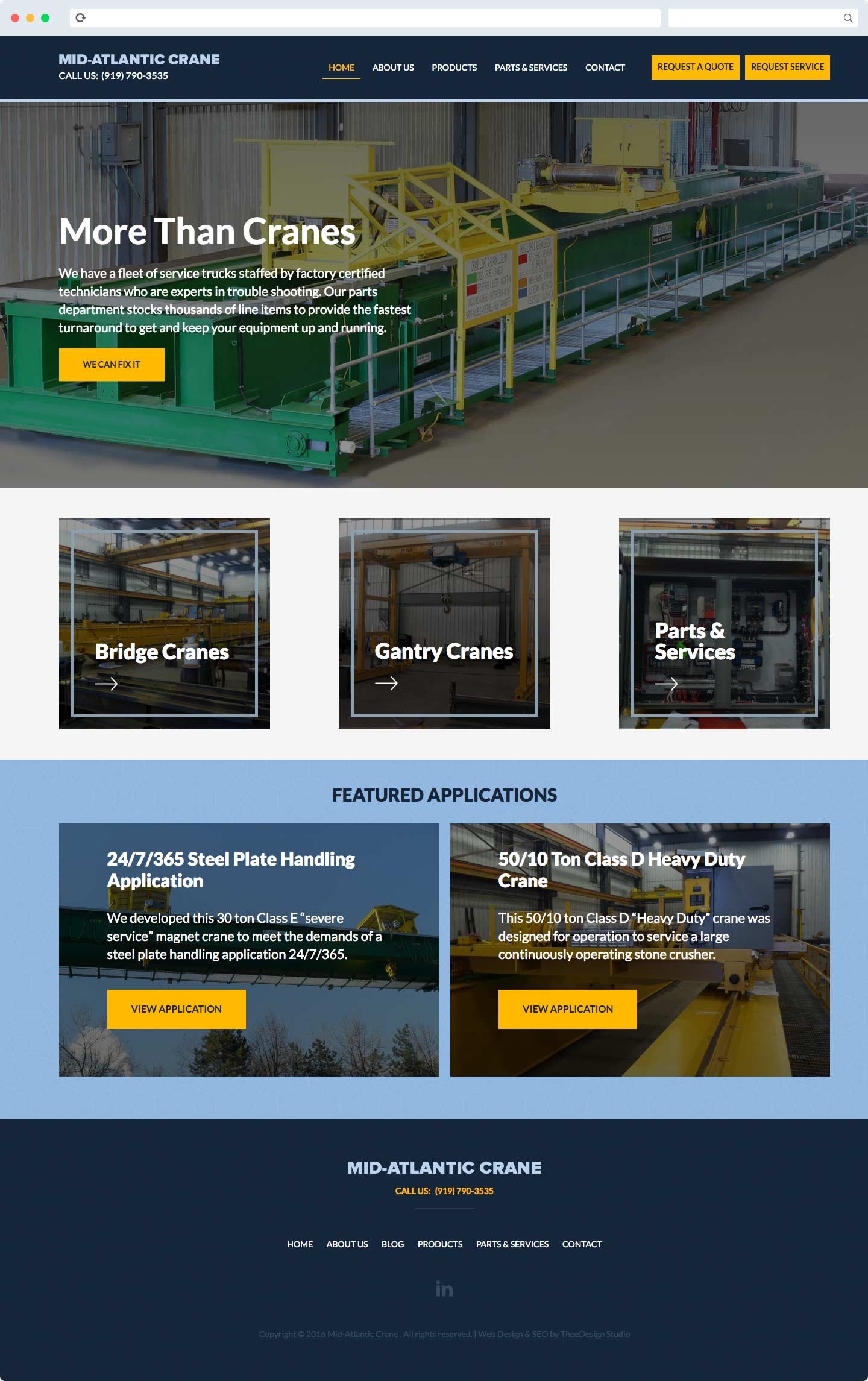 New Subpage Design