Overview
Founded in 2000 by Dr. Cara Davis, Med One Medical Group is a trusted provider of chiropractic therapy, allergy testing and general medical care in the Raleigh, North Carolina area. TheeDesign developed a new WordPress website for the medical practice, and provides SEO and digital marketing services to help them reach new patients seeking primary care and internal medicine services in the Triangle.
The new website on the easy-to-use WordPress platform, plus digital marketing services by TheeDesign's marketing pros, led to results for Med One that include:

0
%
Longer Time Spent on Homepage
0
%
Jump in Social Media Traffic
0
%
Increase in Organic Search Traffic
The Challenge
As a constantly evolving medical team, Med One Medical Group wanted their online presence to be as modern and professional as their practice is. Their previous website was sparse, outdated and did not appear on search engines, making it near impossible for potential clients to find them.
Med One wanted to find a local web design firm that would work with them every step of the way to ensure their website project was successfully launched on their deadline. After calling a few web design firms in the area, they ultimately settled on TheeDesign after seeing our web design portfolio.
The Solution
TheeDesign designed and developed a modern looking website for their practice built on WordPress, an easy-to-use content management system. We also optimized their site for search engines to ensure they would rank well on the major search engines.
The new website for Med One is responsive and mobile-friendly. TheeDesign's WordPress medical web design experts also developed several custom features for their site, including:
Interactive muscular skeletal graph,
Easy-to-use newsletter system,
Online bill paying system for patients,
Virtual prescription refill system for patients,
Google interior business tour.
The Results
Med One is now visible in the search engines, including Google, Bing, and Yahoo, for many of their target keywords having to do with primary care and internal medicine. The new website effectively reaches new patients and captures these leads, via contact forms right on the website.
Med One also launched a PPC strategy using Facebook Ads, guided by TheeDesign's digital marketing professionals.
The results that Med One Medical Group experienced were brought about by TheeDesign's expert SEO work, pioneering Med One's new Facebook Ad campaign strategy, and developing a website with powerful features and a captivating homepage to keep users engaged for a longer period of time on site.
Custom Feature: Interactive Skeletal Graph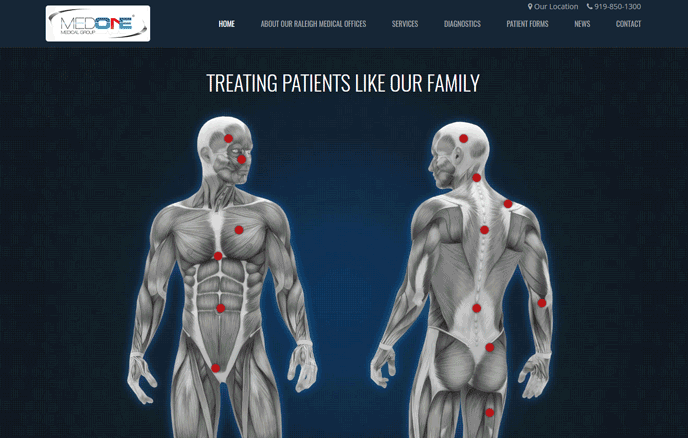 TheeDesign's web design experts utilized custom WordPress programming to design an interactive muscular skeletal graph that provides visitors with info based on body pain points.
Users can hover over each point on the skeletal graph, where a pop-up box appears with a title and short description of each area. Users can click through to learn more, where they are then taken to a page with information about that area of the body.
This interactive feature is displayed on Med One Medical Group's homepage, which led to an increase of 40% in average time on page.
Pioneering A Social Media PPC Strategy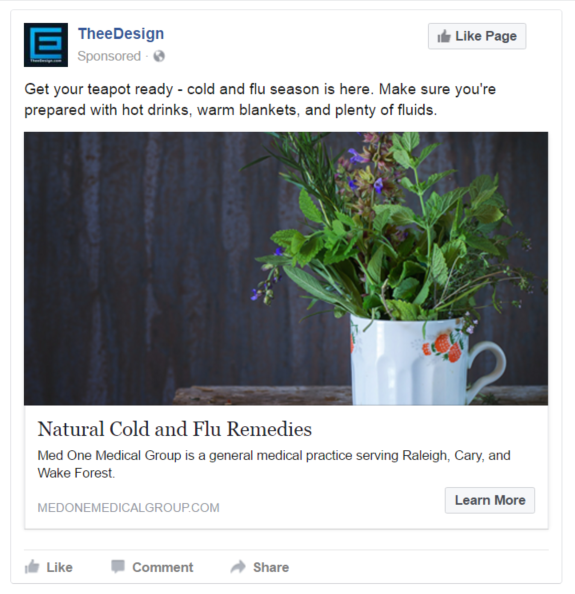 Once the new website had launched and we embarked on an SEO-heavy strategy, TheeDesign's PPC certified specialists developed a way to take Med One's digital marketing to new heights. After much research and analyzing current market trends, TheeDesign identified Facebook as a prime channel to begin Med One's PPC advertising.
TheeDesign worked side-by-side with Med One, developing ad copy and landing pages for various Facebook campaigns. Med One was able to sign off and approve all previews, like this one, before going live on their account.
This strategy attributed to the 1,188% spike in website traffic from social media.
The Anatomy of Med One's New Website