The Challenge
Kirk, Kirk, Howell, Cutler & Thomas had an archaic website that was originally built for them in the early 2000s. Because of its age and its structure, their site wasn't properly set up for SEO and they were losing a lot of potential traffic and clients. The attorneys were fond of the site's style, but they wanted more visits and a contemporary approach to existing appearances. Their site was simply outdated: it was not easily found in search results and didn't have any effective attention-grabbing aspects for prospective customers.
Older sites need a lot more work than most people would think–SEO rules and regulations and search engine guidelines are constantly changing, so it is important to keep the content of websites up-to-date and relevant. Kirk & Kirk's ranking was suffering due to the age of their site, and this, in addition to an entirely new site design, was a big challenge to overcome.
The Solution
TheeDesign set out to create a modern and responsive website for Kirk & Kirk that also featured an easy-to-use management system. We wanted to build a state-of-the-art design that still managed to reflect the aesthetic of the old site. We also optimized their website for search engines and we incorporated well-defined calls to action. Their new site displays beautifully on a variety of screens, including desktop computers, laptops, tablets, and smartphones–including Apple devices.
To create such a masterpiece, we performed extensive keyword research and strategized the content creation around the results of that investigation. We optimized the content for priority search engine results and high conversions, and we built citations and links to expand their internet presence. To ensure that all of their web traffic was directed to the correct pages, we redirected all of their links to the new website.  
The Results
The new site has brought numerous visitors to Kirk & Kirk's law firm, and their search engine ranking has skyrocketed. The website's monthly organic search traffic is up over 2400% from what it was in 2013. These kinds of numbers can't be ignored. A properly built and optimized website can bring your business to new heights. Let the expert designers and internet marketers at TheeDesign take you where you want to go.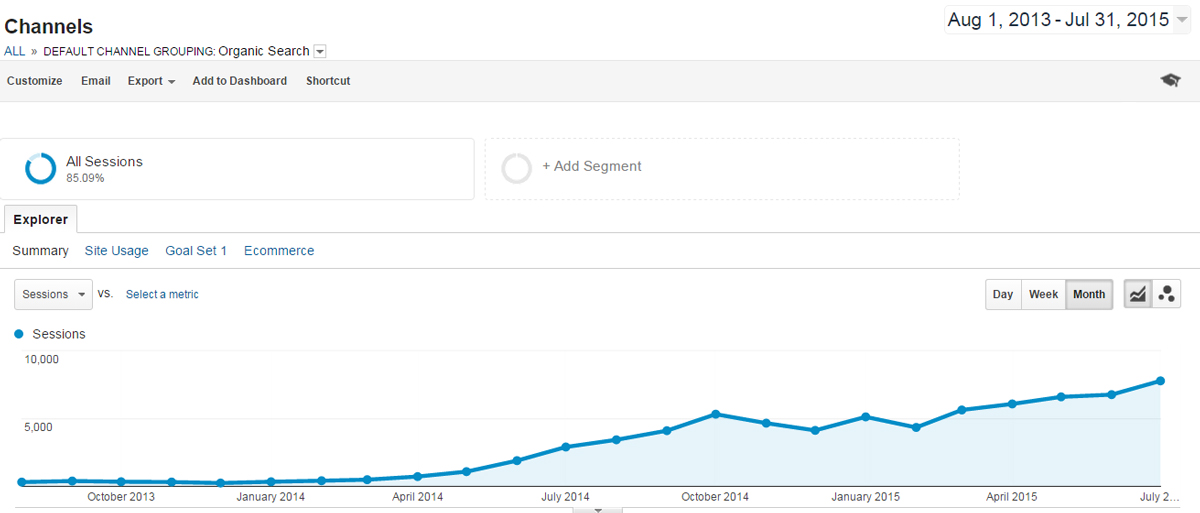 Conversions are up over 600% YOY.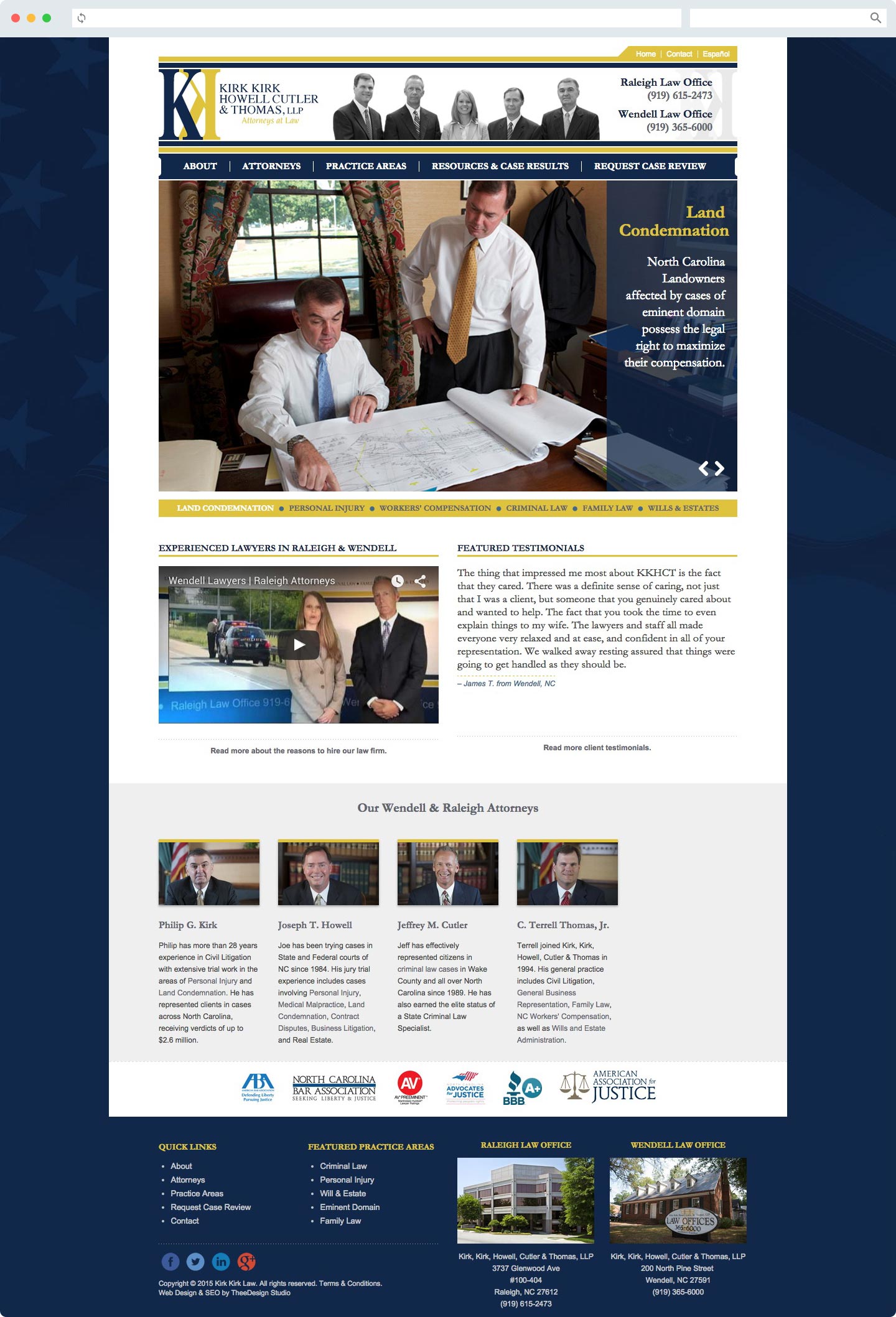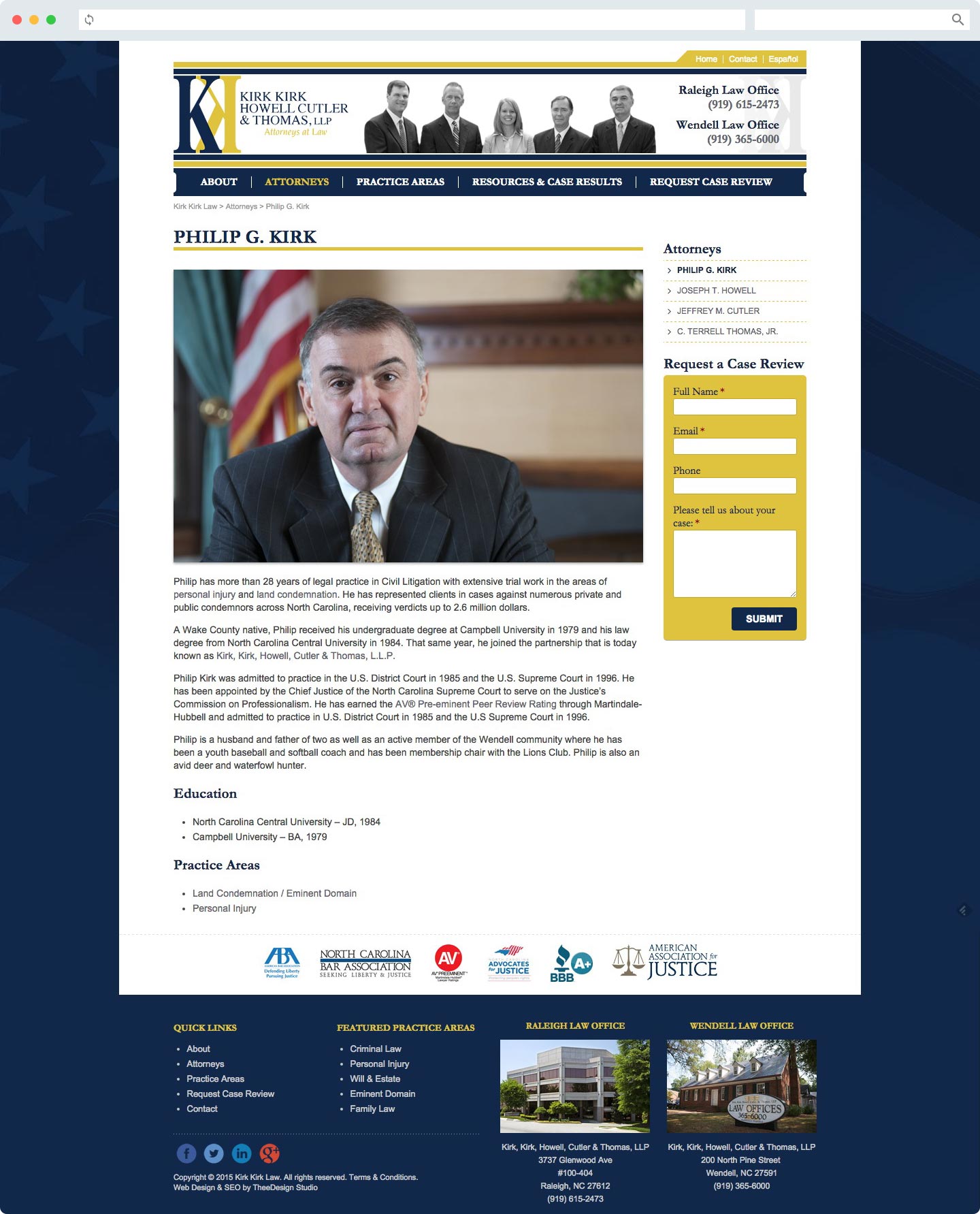 About the Law Firm
Kirk Kirk Howell Cutler & Thomas, LLP is a personal injury law firm with offices in Raleigh and Wendell, NC. Their legal practice covers multiple areas including: land condemnation, family law, criminal defense, and workers' compensation.