Overview
Irons & Irons P.A. is a premier family law firm in Greenville, NC, providing legal services in the areas of divorce, education law, personal injury, and more.
TheeDesign developed the new family law website design on WordPress. Along with the ongoing digital marketing efforts of TheeDesign's marketing pros, Iron & Iron, P.A.'s new website has proven to be a conversion-making machine!

The Challenge
The Irons Law Firm's previous website was created by a company that focused on template websites for lawyers and law firms. The website's design aesthetic did not represent Irons & Irons' high-quality brand very well. Although it was a responsive website, Attorney Gib Irons felt he needed a new website that was not only beautiful, but mobile-friendly, more visible on search engines, and optimized for capturing leads. He felt that his website wasn't helping to drive leads for his business and was tired of investing in a website that was not optimized for conversions.
The Solution
We designed and developed an aesthetically pleasing website that represents both Attorney Gib Irons' vision and Irons & Irons P.A. brand and legal services. Not only that, but TheIronsLawFirm.com is now built on WordPress, which allows anyone at The Irons Law Firm update content and images on their own. The Irons Law Firm website features clear navigation, pages dedicated specifically to each of their legal services, and stand out call-to-actions – which provides an overall better user experience. Our marketing team has also developed an ongoing marketing strategy involving written content, social media management, SEO, and conversion optimization.
The Results
0
%
Jump in
Conversion Rate
0
%
Increase in
Organic Traffic YOY
0
%
Bounce Rate Improvement
Although Irons & Irons' website only launched a little over a year ago, Attorney Gib Irons is consistently ecstatic about how his website performs. While December is notorious for little to no business for divorce attorneys, Gib's website produced high-quality leads and telephone inquires and he was able to convert a number of the online leads into clients before the end of the year.
With the help of TheeDesign's digital marketing and SEO services, TheIronsLawFirm.com now ranks on the top of page 1 in Google for targeted keywords due to more keyword rich and relevant website content.
Irons & Irons P.A. is excited to see the growth that this 2nd year of marketing has in store with TheeDesign's marketing team helping to manage their website and ongoing marketing campaign, and we are just as excited!
Contact Forms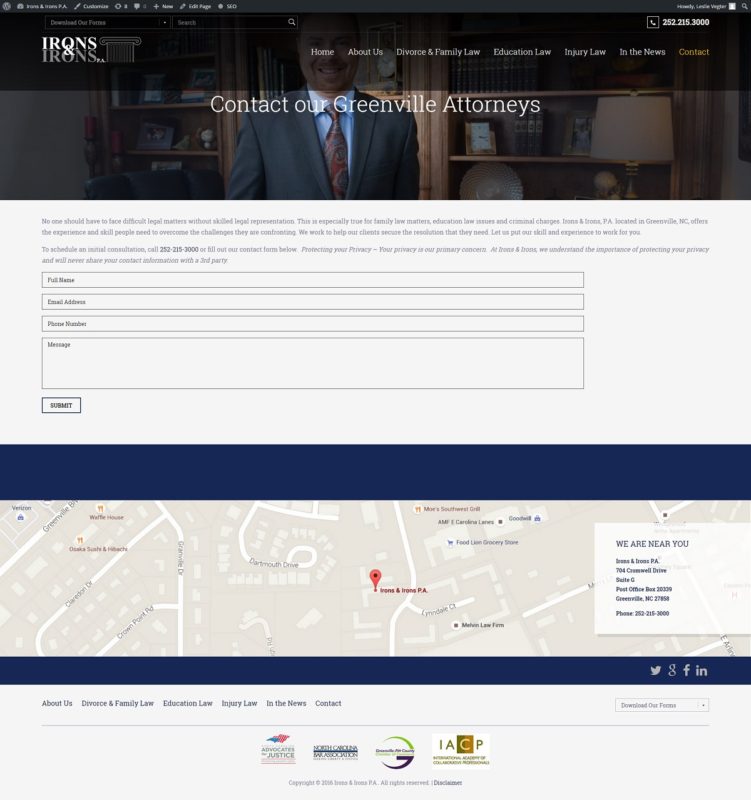 A "Contact Irons and Irons" form is located on the Contact page, making it easy for prospective clients to inquire about services and schedule a consultation.   This enables the website to act as a lead generation tool, turning it into a valuable asset to success.
The "Client Intake Forms," are also available on the website, saving time and making it easier for clients.
Blog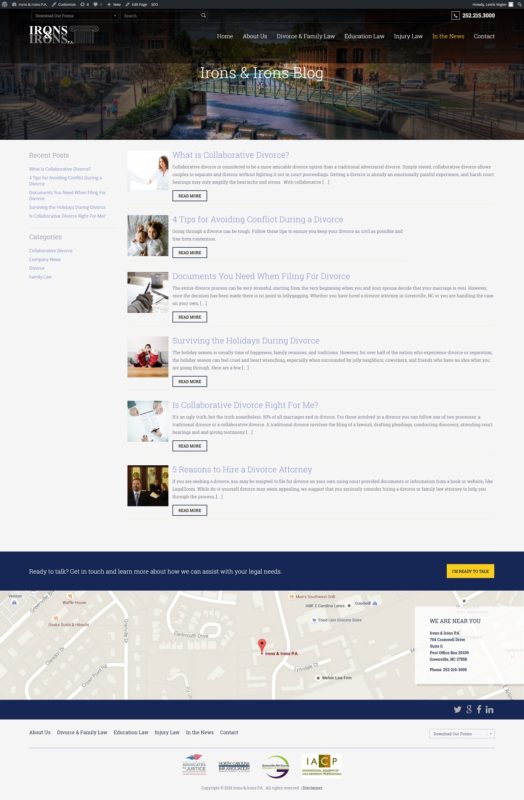 The WordPress blogging feature allows articles to be published that share knowledge, offer valuable advice, and helpful tips for website visitors. This helps promote Irons and Irons, P.A.  as an authority for family law litigation in Greenville.
Irons & Irons, P.A.: Before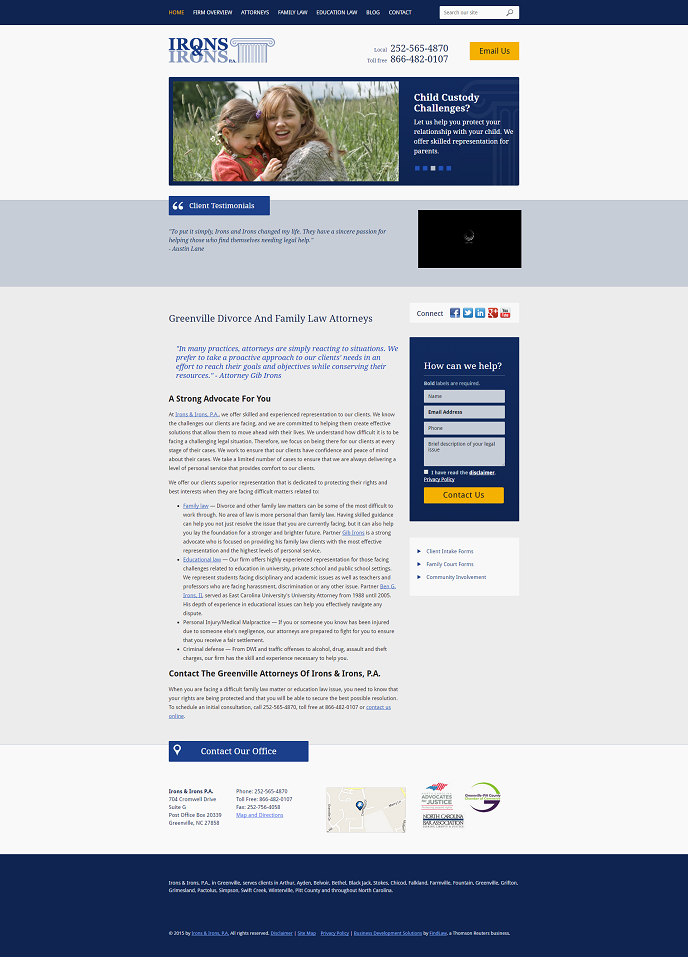 Irons & Irons, P.A.: After