Overview
The Institute for Defense and Business (IDB) is a nonprofit education and research institute that delivers professional education programs to government agencies, military, non-governmental organizations, and private industries.
Effective professional education does more than teach people new things. IDB's goal is to foster collaboration among public and private sector organizations and academia to address shared challenges, and to inspire the type of leadership needed to achieve sustainable success.
The Challenge
IDB needed a design that reflected their professionalism and vision for the future. They deserved a site that looked amazing on any desktop, tablet, or mobile device. It had to be search engine friendly and easy to navigate, and it a needed a simple content management system that non-programmers could update easily and efficiently. IDB called the responsive web design experts at TheeDesign to turn their vision into a reality.
The Solution
TheeDesign's experienced project managers and designers worked collaboratively with IDB to identify their challenges, and developed a custom WordPress website to meet their objectives. Using a variety of advanced custom fields and post types, we created a superior user experience that was as convenient for IDB's administrators as it was for their website visitors.
The Results
Upon landing on the Institute for Defense and Business homepage, the first thing you'll notice is the simple, striking aesthetics. The sharp, professional design mirrors IDB's own authority and credibility in the industry.
Spacious and uncluttered, visitors can easily find what the solutions they are searching for. IDB serves both individuals and organizations, so the call to action buttons serve to immediately channel visitors in the right direction.
Utilizing high contrast and ample white space, the next section clearly defines what sets IDB apart from the crowd, and below that, the most current upcoming programs are listed for easy reference.
In the next section, the most common questions are addressed, and finally, alumni of the program are given a space to stay connected. The order and prioritization of content follows a very natural progression.
As beautiful as the site may be, the real magic lays behind the scenes.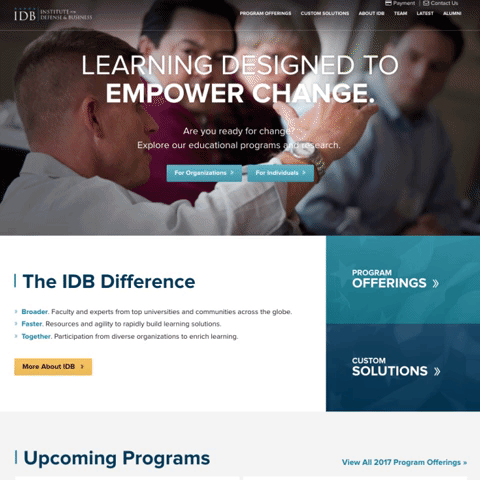 Advanced Custom Fields For Easy Editing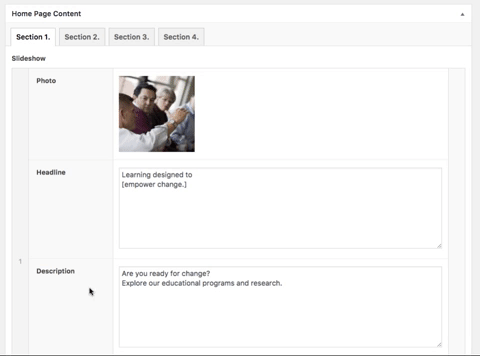 Pages such as the homepage and class description pages feature complex layouts that would be difficult for an average user to reproduce without advanced CSS coding.
Behind the scenes, using advanced custom fields, TheeDesign created a friendly user interface where pictures, backgrounds, text, and headlines can be easily updated by anyone with admin privileges.
The pictures will automatically scale, the text will take on the appropriate styling, and of course, it's all responsive. Design elements shift and stack like magic, allowing the page to look perfect on any device.
No need to hire a programmer to manage the site!
Ultra Sleek Mega Menu
To add even more visual flair to the website, we took IDB's standard navigation menu and took it to the next level. Also known as a mega menu, regular drop down menus are expanded and upgraded with images, drawing attention to IDB's current program offerings while making a dramatic artistic statement!

Custom Search With AJAX Filtering
Website visitors have a tendency to be in a rush, so anything that can be done to expedite a visitor's search for information is a plus.
Their average time on site may only be a few minutes. If website visitors can't find what they are looking for in time, they'll bounce before having the chance to become a lead!
TheeDesign created custom post types for IDB's program offerings that include custom attributes such as program name, topic, career level, and duration.
These attributes are searchable in the custom search feature. Plus, AJAX filtering does not require the page to reload, so the results are filtered instantaneously.
Authorize.net Payments Page and SSL Certificate
IDB's site features a secure payment page where customers can conveniently pay their invoices online with a credit card. With the Authorize.net payment gateway, IDB can accept Visa and Mastercard payments and have the funds deposited directly into their bank account. Settled transactions can also be imported directly into Quickbooks.
SSL security isn't only important on payment pages. The entire site is on HTTPS to give users added protection and peace of mind by ensuring communication between client and server is encrypted and authenticated.
There are other benefits of an SSL secured site. Google has previously announced that SSL security is a positive ranking signal. In addition, Google's Chrome browser features different visual indicators if a site is secure or not. A green padlock symbol appears in the address bar of a secure site, and on an unsecured site, "not secure" warnings will show on certain form fields.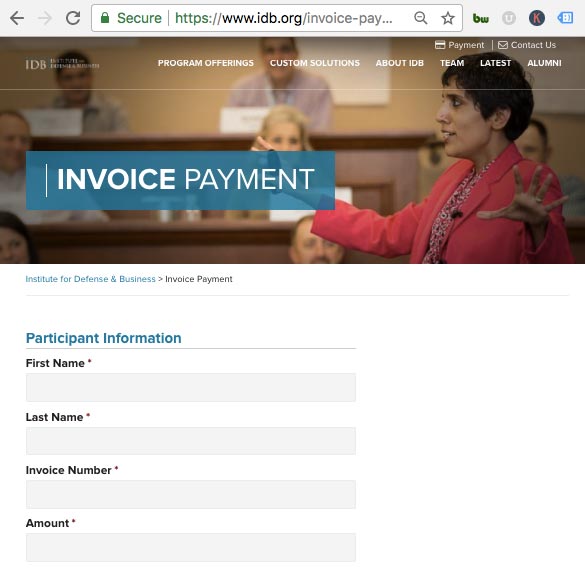 We worked with TheeDesign on a corporate website redesign and were impressed by the team's ability to quickly transform our ideas into a beautiful, functional website. As changes came up throughout the development process, they were flexible and found ways to deliver on those changes without increasing the scope. If you have a solid idea of the website you want, TheeDesign is a great partner to build it.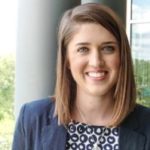 Claire Puncer
Marketing and Communications Manager
The New Website for IDB