Overview
ImagineOptix was founded on the simple proposition of providing breakthrough optical components. ImagineOptix has created proven innovative platform technologies for tomorrow's challenges in high-speed optical networking, bright low-power mobile/wearable displays, pico to theatre sized projection, optical instrumentation, high resolution imaging, flat lens arrays, etc. These are but a few solutions and the future is only limited by the imagination. Hence, their name – ImagineOptix.
TheeDesign partnered with ImagineOptix to design and develop a new, award-winning WordPress website that you will need to see to believe.
The Challenge
With a big tech conference coming up in just four weeks, ImagineOptix decided it was time to redesign their website. In addition to the website redesign, they also wanted something unique to make them stand out and attract potential business partnerships. Redesigning and developing an entirely new website within this short amount of time was no simple task, but TheeDesign gladly accepted the challenge with excitement.
ImagineOptix had an outdated website that wasn't mobile-friendly or optimized for search engines, and didn't reflect their cutting-edge technology. It also failed to attract and engage their target audience. The homepage featured their older technology, rather than the innovative newer projects they have to show the world.
The Solution
With ImagineOptix's goals in mind, TheeDesign went to work creating, designing and developing a custom, responsive website that would get them results. Our team decided to use WordPress, an easy-to-use content management system, which would allow ImagineOptix to update their website content on their own very easily.
TheeDesign proposed the idea of using a 3D render on the homepage to demonstrate the potential of ImagineOptix's breakthrough optical technology in augmented and virtual reality. TheeDesign worked directly with ImagineOptix to deliver a never before seen concept for VR/AR glasses that show ImagineOptix's potential.
The Results
ImagineOptix's new website is clean, modern, and easy to navigate. Right away, website visitors are presented with an interactive 3D model that highlights the potential of their technology. As you scroll down the homepage, you see more high quality images that highlight ImagineOptix's technology and products. After briefly seeing all of the cutting-edge technology that ImagineOptix is accomplishing, visitors are presented with an inspiring call-to-action: "Let's make something impossible come to vision."
Besides web design and development, TheeDesign created a custom icon set to highlight the core market applications for their technology. These icons are used to provide insight into how their technology can be used as well as build a recognizable relationship between ImagineOptix technology and the applications.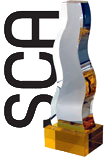 TheeDesign's custom development for ImagineOptix.com was awarded the Gold 2017 Summit Creative Award in the Business-to-business Website Design category.

3D Rendering Feature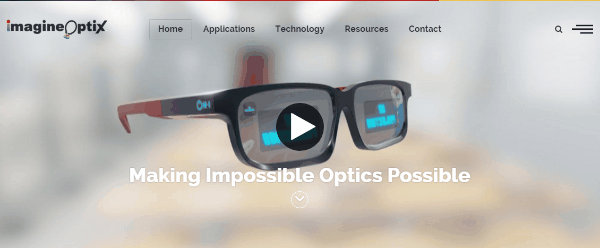 The homepage features an augmented reality / virtual reality 3D rendering sequence of some of ImagineOptix's technology.
Once the user presses the "Play" button, the 3D model begins moving through the sequence, visually dissecting each component and providing details about the technology.
Despite a tight deadline to launch, TheeDesign's team of WordPress developers and web designers came together to create a stunning website for ImagineOptix. This augmented reality feature was an added bonus that really took the site to a whole new level.
Custom Icon Design

TheeDesign advised ImagineOptix on best practices throughout the redesign process. One of the recommendations involved creating Applications pages as a way to make it easier for prospects and customers to envision how ImagineOptix could help solve their needs.
A custom icon set was designed specifically for the Applications section, which ultimately brought the pages to a more visually appealing state — a trend that is becoming a must-have for today's website designs.
Since the launch, we are seeing an increase in lead generation from the new website, with 32% more organic traffic!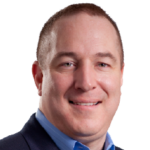 Dr. Jason Kekas
Chief Technology Officer / Co-Founder
ImagineOptix's New Website