Overview
HiViz LED Lighting provides LED lighting solutions to the Fire / Rescue / EMS industry, revolutionizing the way fire and emergency service personnel work after hours in the dark. Sam Massa began HiViz LED Lighting after he realized that first responders needed better quality lighting at rescue scenes.

The Challenge
The folks at HiViz LED Lighting were looking to transform their old website into a modern, easy-to-use masterpiece. Their previous website was described as "cumbersome" to navigate, especially on smartphones and tablets, and was not user-friendly.
HiViz LED Lighting's specific requests for their website included a way to incorporate video content onto their site, and the ability for users to look up the lighting parts they needed.
The client wanted a modern feel that met all of their practical needs, which also included easily understood product descriptions and a contact form.
The Solution
In order to fulfill all of the client's needs, we designed a custom website that is bright, engaging, and easy-to-navigate. We decided to build the new website on WordPress so that HiViz LED Lighting would be able to update content, part numbers, photos, and videos as they needed.
We also created a filter on the client's product pages so that users can easily determine the product number that they are looking for. These aspects are characteristic of the nature of HiViz and their commitment to their customers, and we wanted to reflect their dedication in the design of their site.
The Results
HiViz LED Lighting's new website is modern, easy-to-use, and includes every feature that was most important to Sam Massa.

The homepage is easy to navigate, with featured boxes under the fold to help users choose where they want to go. The video content is on the About page, along with more information regarding HiViz LED Lighting and their efforts to better rescue scenes.
Users can easily search for their lighting part by part number or through custom-developed drop down fields. The user experience on HiViz's new website has improved due to a creative layout, effective user flow strategy, and optimization.
See the newly developed site for yourself, below!
HiViz LED's New WordPress Website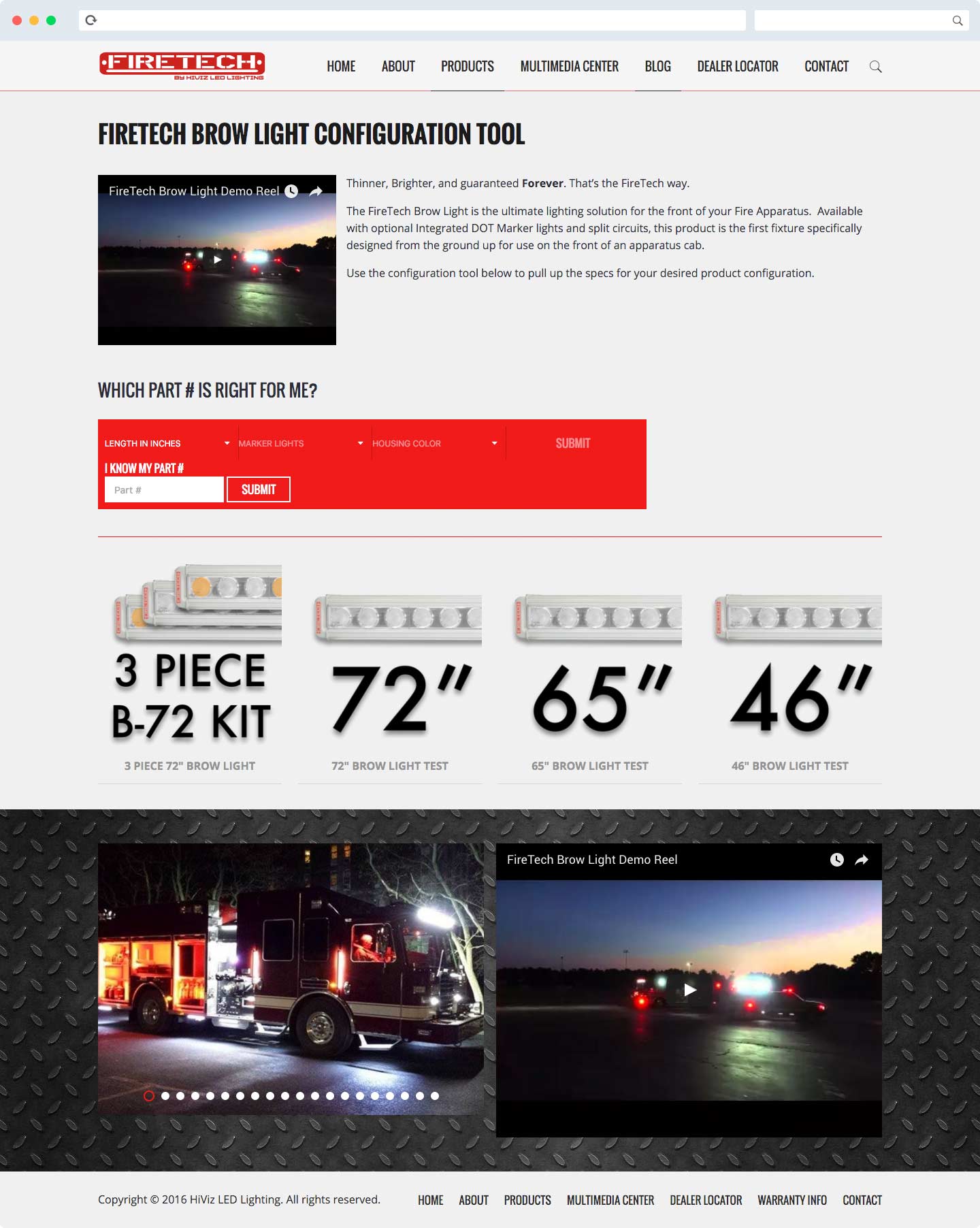 HiViz LED's About Page Design