Overview
Eastern Technical Associates (ETA) is a world leader in facilitating Visible Emissions Observer Training programs (also known as smoke schools) and opacity consulting services. ETA certifies more regulatory and private industry representatives than any other provider.
TheeDesign's team of custom WordPress developers met the goal of creating a beautiful website that is responsive and completely mobile-friendly.
Hover over to see the new responsive site!
The Challenge
Having been in business for over 35 years, ETA's website had grown to be outdated and needed a major update. The design of the site did not accurately communicate the eminence and stature of the long-established company.
The decades old company relied on a website that was primarily composed of images to deliver their message and portray their business online. Unfortunately, this practice counteracted any SEO value that ETA would have built up from the age of the domain. So, it was important that ETA's new website be designed with the added value of marketing and searchability.
Not only did the old website utilize outdated web design practices, which led to poor user experience, little optimization for search engines, and virtually zero chance to compete with responsive, mobile sites. ETA also had another separate website. This second website presented problems like user confusion and drastic decreases in SEO impact.
ETA's challenges required a special kind of web design agency. They didn't just need a beautiful website — they needed a partner that could help solve their digital challenges, such as being able to easily manage and update the website. ETA needed a web design team to guide them on best practices, and who could bring all the pieces together to compose a compelling story in the level of distinction that ETA has as an opacity and smoke school authority.
The Solution
To give ETA a competitive edge online, we decided to build their new website on the content management system, WordPress. This would allow the ETA team to easily update their website as they continued to grow.
We worked hand-in-hand with their team to merge their two sites into one while creating a cutting edge design they would not only be search engine friendly but easy to navigate. Allowing their perspective clients to easily find and signup for their classes from a desktop, tablet or mobile device.
TheeDesign strategized how to have ETA's second website play nicely and make sense with their original site. Taking user experience and visitor flow into account, TheeDesign made it so that ETA could still use the important content on the secondary website, without it taking away from the official website.
As a leading opacity authority and smoke school provider, ETA has many functions, all of which needed to be organized and adequately presented on the new website. Better tools and features were integrated into WordPress to allow for custom usability, such as allowing users to find the next smoke class near them. The new website also enabled ETA to house things like…
Virtual classes, Nationwide course schedule, Online store, Email signup, Training programs, Consulting services, Resources, forms, and documents, & Recent news
The Results
Eastern Technical Associates's newly redesigned website is now modern, cutting edge, and aesthetically pleasing. The site uses responsive web design technology to show on smartphones and tablets. Their new homepage allows them to showcase their rich history and class while competing with industry leaders.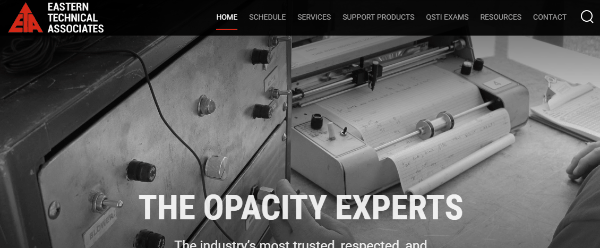 The website uses strong calls-to-action throughout to help qualify visitors and direct them towards signing up for classes. Their new site met all their design-related goals and will allow them to remain an industry leader.
100% Mobile-friendly Web Design
Most web design agencies build responsive websites to look impressive on mobile devices. But just because a website is responsive doesn't mean that it's mobile-friendly.
A website can have a stunning design, but if it's not mobile-friendly, users will be 5x more likely to leave your beautiful website.Google
Pages that are not mobile-friendly can also be demoted in the search results and may even be displayed with a warning — a sure way to deter visitors from your website.
With 94% of mobile users searching for local information on their smartphones, it was crucial for ETA's local smoke school classes and resources to be visible and easily navigable online.Google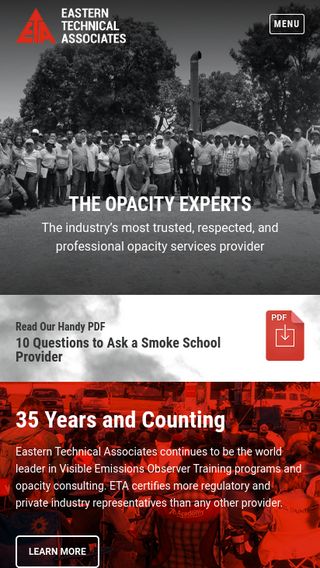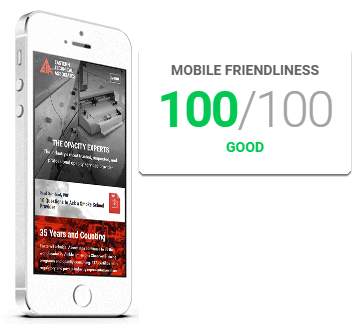 TheeDesign's digital marketing pros worked side-by-side with our web developers, making sure that Eastern Technical Associates' new website passed the test of mobile-friendliness with flying colors.
The New Website