Overview
Hunt Forest Resources, LLC is a team of forest resources professionals dedicated to providing customers with the highest quality products with exceptional customer service. They take pride in the fact that they are a central North Carolina business involved in every aspect of the wood products industry, and therefore have a passion to responsibly utilize and sustain America's #1 renewable resource.
Hunt Forest Resources saw the need to provide the local area and its surrounding areas with a quality firewood product, delivery services, and helpful information about the ins and outs of firewood, and East Coast Firewood was born. TheeDesign has helped East Coast Firewood fulfill this mission by creating a WordPress website to launch the new businesses' online presence.
The Challenge
Aside from the usual hurdles involved in the startup of any new business, East Coast Firewood had some unique challenges. In an industry not typically known for a strong web presence, East Coast Firewood didn't want to put just a basic website online.
The team at Hunt Forest Resources had a clear vision for the new East Coast Firewood website. Firewood delivery may not be the hottest topic (no pun intended), but just because firewood isn't the most exciting thing didn't mean their website couldn't be! For this reason, East Coast Firewood's new site was developed to be modern and rich in features.
East Coast Firewood's delivery services span all over the East Coast, even as far as Florida! So one of the goals of the new East Coast Firewood website was to make it very easy for customers to request deliveries and to communicate how expansive the delivery area is.
The Solution
TheeDesign worked side-by-side with them to make Hunt Forest Resource's vision for the new East Coast Firewood website come to life.
Our WordPress web designers designed and developed East Coast Firewood's new website from the ground up with a fresh modern design, and then packed it full of great features. TheeDesign even went out to the wood-yard to capture video footage for the website's homepage.
It was important that the website made the extensive service area visible to customers, and that the website was optimized for conversions (quote requests). Through strategic placement of "Get a Quote" forms and call-to-action buttons, TheeDesign made this possible.
The Result
East Coast Firewood wanted a modern website to gather new sales leads, and TheeDesign delivered. The new website began generating leads as soon as it went live.
East Coast Firewood's new website is modern, easy-to-use, and directly aligns with East Coast Firewood's mission, brand, and overall online goals. The responsive design ensures the site works and looks great on all devices, and the prominent contact information and forms drive the websites success.
There are always unique challenges when launching a new business, and Hunt Forest Resources trusted TheeDesign with handling the website that would put East Coast Firewood on the trajectory for long-term success.
Heating Things Up in Web Design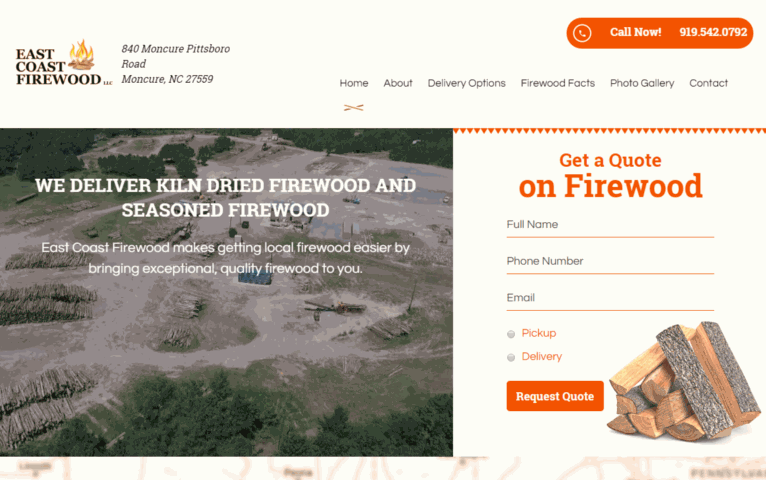 A website may have a stunning design, but does it actually convert? Our websites are designed with the end-game in mind, and East Coast Firewood is no exception.
To build a website for the new firewood delivery service that was eye-catching, but also effective in reaching prospects, TheeDesign traveled to the East Coast Firewood's wood-yard to capture video footage. The video is featured on the homepage, where users can now see East Coast Firewood in action.
The use of video, combined with a clean, modern design and strategic use of call-to-action buttons, "Request a Quote" forms, trust signals, and roll-over features all come together for an impressive website that will launch East Coast Firewood in the right direction.
East Coast Firewood's New Website