Why is search engine optimization for law firm websites necessary today? It's because your future clients are searching online much more often than they're watching the television or thumbing through the yellow pages. Indeed, long gone are the days when most towns all had that one lawyer that everyone knew. These days, potential clients go straight to the web when they are in need of a lawyer or an attorney. The majority of attorneys have websites, but very few of those legal websites are gaining substantial traffic. Why? Because potential clients can't easily find you on Google. To achieve maximum online visibility within the competitive legal market, your website needs to optimized so that your law firm shows up on the first page.
At TheeDesign, we have SEO and digital marketing experts who have worked with numerous legal websites and have gained a deep understanding of exactly what is necessary to make your site rank in the highly-competitive legal industry. Our marketers know exactly in what ways your site needs to be optimized to reach the exact clients you are looking for, whether they be personal injury clients, worker's compensation, divorce clients, or any other legal clients. We have practiced experts who understand how to get the best conversions out of your website rankings, and we know how to optimize every part of your site to maximize your viewership. Contact TheeDesign today to jump-start your website!
SEO Services for Law Firm, Lawyer, and Attorney Websites
At TheeDesign, we are committed to providing you with the most up-to-date online marketing services so that your legal website can be successfully optimized:

Rankings & SERPs
Local Citations
Competitive Intelligence
Market Research
On-site Optimization
Off-site Optimization
Benefits of the Right SEO Strategy for Lawyers
Gain Visibility
Get found online when new clients search
Out-rank Competition
Beat your competitors in the search rankings
Generate More Leads
Get quality leads that convert into high-value clients
Drive Revenue
Increase new business while maximizing ROI
Why TheeDesign is Right for Your Law Firm
TheeDesign is well versed and familiar with the legal industry and knows how potential clients interact on the web when they're looking for an attorney. We've worked with a number of law firms and attorneys and have nailed down exactly what SEO best practices work, and which do not. This means that we will be able to start with what's successful when we start working on the SEO optimization for your site. Based on our extensive knowledge, we customize a strategic marketing plan that best suits your law firm and your legal practice areas.
After speaking with you to gain an understanding of what your firm's goals and objectives are, the TheeDesign team will perform in-depth keyword research to ensure your website is properly optimized for your legal services. What this means is that we will use tools at our disposal to understand what people are searching for and how to mesh that with your desired keywords and strategies. Our goal is the same as yours – to have potential clients find your website at the top of their search results, making them more likely to convert and choose your firm over your competitor's. We don't consider ourselves merely a partner of yours, but rather an extension of your existing brand. We believe that your success is our success.
If you believe that it's time for you to break the mold of old-fashioned legal marketing – our SEO services will be the most fitting for your practice, and our experienced Legal SEO marketers are excited to take on your project. If you don't believe us, check out the success of the other lawyers who have worked with TheeDesign.
The Proof: Featured Law Firm SEO Case Study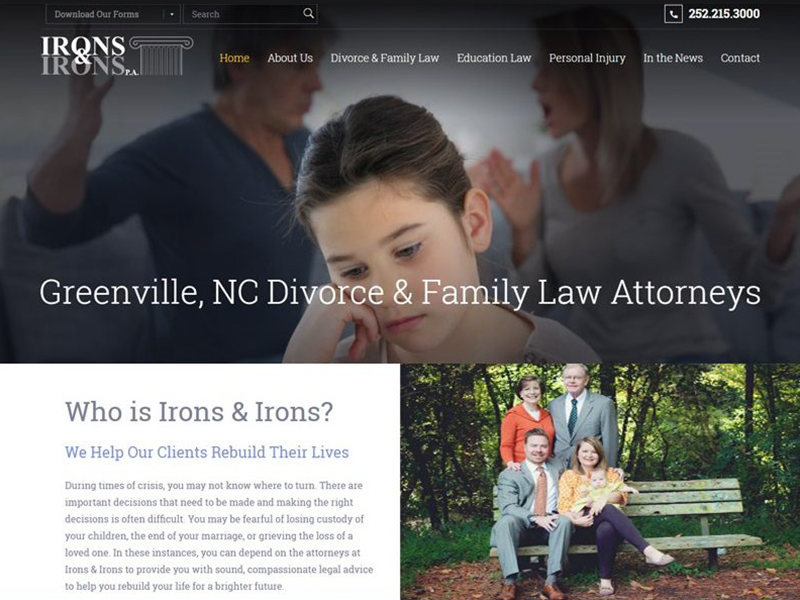 Irons & Irons, P.A. is a divorce and family law firm based in Greenville, NC. Read how we were able to transform their website into a conversion-making machine!
Give our team a call at
919-341-8901
or complete this online
contact form
to find out how you can benefit from TheeDesign's expertise today!