In preparation for July 4th, our Raleigh web design and digital marketing agency has put together a list of fireworks shows going on in Raleigh and other surrounding areas. Check out our list to prepare for the celebration!
Raleigh Fireworks Displays
The Works!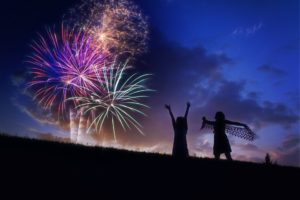 On Fayetteville Street, Raleigh will be hosting "The Works!", a celebration running from 12pm to 10pm on Tuesday, July 4th. Admission is free and fireworks will begin around 9:30pm above The Duke Energy Center for the Performing Arts and the Red Hat Amphitheater. Other activities throughout the day will include live music, a beer/wine tent, kids rides and games, Aerial Performances, Cirque de Vol street performers, eating contests, food and art vendors, and more.
Brier Creek Commons
Brier Creek Commons will hold its 10th Annual Independence Day Celebration on Tuesday, July 4th. The event will take place from 7pm to 9pm and admission is free. Other activities that will be at the event are bounce houses, face painting, patriotic activities, and food. Fireworks will start after dark.
Cary Fireworks Displays
Koka Booth Amphitheater Fireworks
Cary will offer a fireworks display at Koka Booth Amphitheater at their 4th of July Celebration on Tuesday. At 5:45 pm the Cary Town Band will perform, followed by the North Carolina Symphony at 7:30pm. Following these performances, the fireworks will begin. There will also be other various family-friendly games and activities from 3pm to 7pm, such as a watermelon eating contest, a magician, a scavenger hunt and a Ferris wheel. Admission is free, but various amusement rides will cost money.
Durham Fireworks Displays
Durham will hold its Independence Day Celebration at the Durham Bulls Athletic Park on Tuesday, July 4th. Fireworks will begin at approximately 9;15pm, following the Durham Bulls game vs. the Charlotte Knights that starts at 6pm. Purchasing tickets to the game is strongly encouraged, but gates will also open for general admission at the end of the 7th inning, depending on availability, to let in people who did not purchase tickets to the game, but still want to see the fireworks.
Chapel Hill Fireworks Displays
Chapel Hill will hold its 4th of July celebration at UNC's Kenan Memorial Stadium starting at 7pm on Tuesday. The event will feature a live performance by the Radiojacks, a Top 40 variety band, as well as a watermelon eating contest, food trucks, face painting, spin art, photo booth, and more. Fireworks will begin at approximately 9:30pm. Donations of $1 per person or $5 per family is recommended to offset the cost of the event.
Wake Forest Fireworks Displays
The Fireworks Spectacular in Wake Forest will be from 5:30pm to 9:30pm at the Wake Forest High School Stadium on Monday, July 3rd. Admission is $5, but free for any children 6 years old or younger. At 6:30, they will have music from The Band of Oz, which was inducted into the Beach Music Hall of Fame in 1997 and is one of the most popular beach music bands in the southeast. There will be concessions (cash only) and several food trucks.
Garner Fireworks Displays
Garner's Independence Day Celebration will be from 5-10pm in Lake Benson Park on Monday, July 3rd. Enjoy free admission to the event, which will also have music by Bull City Syndicate, free inflatables, arts, crafts, and concessions provided by local nonprofits.
Morrisville Fireworks Displays
Moorisville will be having a fireworks show in Moorisville Community Park on Monday, July 3rd. Food trucks and music will begin at 6pm, followed by fireworks that will start after dark. Admission is free.
Fuquay-Varina Fireworks Displays
Fuquay-Varina will be holding their annual Independence Day Celebration, starting at 6pm on Monday, July 3rd. There will be various other activities such as food vendors, music acts and free inflatables leading up to the fireworks show that will start around 9:30pm. The event will be at South Park and is free for admission.
We Love Raleigh, and We Love Making Digital Fireworks!
Does your business need to create fireworks in the digital space? Let our social media, digital marketing, and web design experts create a dazzling display for your online presence! Contact us today at919-341-8901 or complete our online form for a quote and a FREE site audit on your current digital properties!
Enjoy yourselves and have a safe, fun holiday! Happy 4th of July!