High traffic volume doesn't always mean high conversion rate. You could invest time and money into having quality SEO, a network of backlinks, creative content, and a modern, mobile-friendly design — and still come up short.
If your analytics report shows solid traffic, but your phone just isn't ringing, we have some ideas on what might be causing your visitors to leave your site before converting.
1. Your Call-to-Action is Invisible
People's attention spans online are very short. Almost as fast as someone changing channels on TV. Catch their eye immediately with a jaunty animation. Modern web designers often create simple animated logos or engaging visuals that grab the visitor's attention, then direct that attention smack dab to the call-to-action (CTA).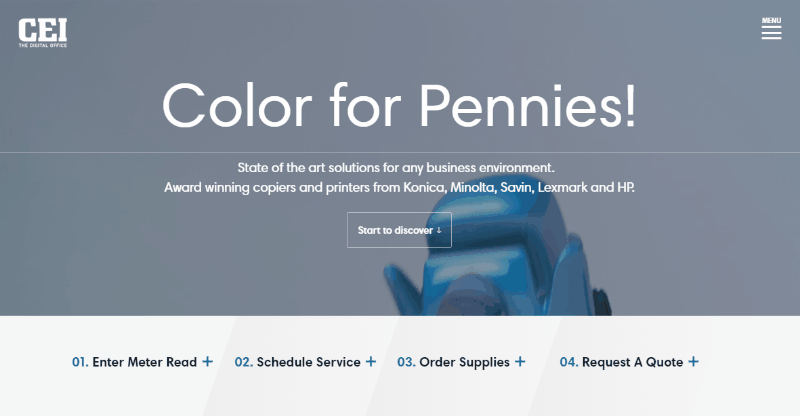 The animation leads the customer through a fun and engaging experience from the beginning to the point of conversion. It's easy to understand, and simple to navigate.
When designing a page, think about your customer's journey. What do you want your customer to do? Your fancy SEO got them to click on your website — now what?
Here are some tips for making your call-to-action visible and engaging.
Put your phone number in the header (and make sure your visitors can call just by clicking it).
Add a CTA button front-and-center on the hero image.
Create a simple animation that guides the visitor's eye.
Use a "sticky header" that scrolls with the page, so your customer never has to scroll back up to find your phone number.
2. Your Headline is Confusing
Don't confuse your poor customers with a vague headline. Make sure your headline explains exactly what your company does — creativity is nice, but if you're too vague, you may lose customers.
You need to reassure your visitors that they have found the page they have been searching for. Try to anticipate your customer's first question upon entering your site. What kinds of information might they need to know immediately?
Services
Location
Why your company is the best
Ease of service
Let's look at an example.
Welcome to Six Forks Smiles!
Notice how Six Forks Smiles notes their location immediately: Raleigh, NC. Immediately beneath, they showcase three of their major service areas. This makes it easy for a vistor to see right off the bat whether or not this is the kind of dentist office they should explore further.
The CTA is also easy to find: A clickable phone number and
This is far more effective than having a page labeled Dentist. It's also important to have that "hook" near the top of the page – users may not scroll down far if they're not sure that your company is a good match for what they searched for.
Having this information immediately visible takes the guesswork out of it for the customers. Now, your visitor knows they found the right website.
If you have a website where people make purchases you need to let them know this transaction will be easy and shopping on your website is their best choice.
3. Your Contact Forms are too Long
You did it! Your SEO ranked your site at the top of Google; your content enticed your site visitor to search for a call-to-action; now, your customer is at the point of conversion.
But your super long, complicated contact form turned them away in the home stretch.
It's easy to get caught-up in creating long contact forms, wanting to capture every piece of relevant information about your potential lead. However, simple forms are far more likely to convert.
Here are typical problems we see on submission forms.
"Required fields" that your customer missed caused the entire form to reboot. Now they have to fill in all their information again.
You asked for too much personal information and spooked them.
You overloaded them with detailed questions.
Let's say you're a dentist, and you want an idea of what kind of work your potential client will need to have done. By asking your customer to explain in-depth about tooth-related issues they may not even have words for, you might unintentionally frustrate them. In fact, by asking them to explain all their needs to you up-front, you are actually putting a workload on them that your employees could do instead. Lighten your customer's load. Only ask for the bare minimum of information.
Name
Email address
Phone number
Now, your staff members can call them back. Once that next step in the relationship is established, a website lead is more likely to convert into a client.
4. You Aren't Promoting Your Hooks
Are you offering a special holiday deal? Do you have free shipping? Have you implemented a promotional code to save money? If you have an irresistible hook, be sure to dangle it in big, bold letters — put it right where your website visitors will see it!
Take a look at this example:
The hook "Call for our Thanksgiving Specials!" is dangled right alongside the click-to-call phone number. This combination works together to increase conversion potential.
If you look closely, you can even see a second, smaller hook at the bottom of the page. "Duke Energy to start charging you more." This provides a compelling reason to check out the Thanksgiving Specials that could help you save money with solar electricity!
So what are some common website hooks?
Small website hooks
Rated #1
Largest Selection
Guaranteed
Large website hooks
Use this promo code to get 25% off
First 30 days free
Buy now and delivered by Christmas
They may seem small, but customers are often swayed by terms like "Award-winning" or "Rated #1." And if you have a free offer, you should promote it everywhere you can.
Slow-acting hooks – businesses with a longer sales cycle
Many businesses have a longer sales cycle – their typical customer would not simply log into their website and make a purchase that same day. For example, if you're offering website design, marketing consulting, or medical services — your clients will enter a research phase before they purchase. You'll need a different type of hook to capture these customers, such as:
Download our five-page definitive guide on Cloud Hosting.
Sign up for our newsletter for coupons and deals
Join our mailing list for great tips
To download the guide or subscribe to your newsletter, the customer has to simply enter in their first name and email address. This then allows you to add them to your email list and continue a conversation with them during your longer sales cycle.
But this type hook would not work for all users. To someone that is trying to learn more about this technology, this is a great offer and has a high likelihood of getting them to take action. If it's a customer looking at another product such as buying a domain, they may not be interested in this.
Throughout your website you should be questioning whether you have asked the customer buy, to contact you, or to get more information. You must balance this with thinking about what the benefit the users gets from doing that action.
ADD TO CART is not a hook
Add to cart is a function of your site, not a hook to engage the user. A proper hook in relation to buying items is:
Get free shipping by adding $14.97 more to your cart.
Enter promo code DISCOUNT to get 20% off.
Guaranteed to arrive before Christmas!
Would you like more conversions and web leads?
If your company depends on your website to bring in more business, contact us. We'd be happy to discuss ways your site can capture more from the traffic you already have.