When it comes to your business, your customers can be one of your biggest internet marketing tools. Roughly 70% of online consumers are more likely to trust a product or brand that has positive reviews.
What does this mean for your local business? That getting positive reviews can benefit you more than you would think. The more reviews and mentions your business has, the higher you'll rank and the more presence you'll have in the search results. The more presence you have, the more customers will develop confidence in your brand.
Customer reviews can help you, the business owner, as well as other potential customers who are trying to decide between choosing your business over one of your competitors. Getting actual customers to leave you reviews on one of the many sites these days can be tricky though. How do you ask for reviews without seeming too forward?

Try these tips:
Make it Easy
Before asking for reviews, make sure the actual review process is quick and easy for your customers. The easier it is to quickly write and submit a review, the more likely they will be to leave you one. Review processes that are too long or too complicated can make customers frustrated.
*Pro Tip: Set up custom review URL's like www.TheeDesign.com/review to make an easy, shareable link that takes your customers right to the page they leave a review on.
Learn how to create a link for Google+ reviews >>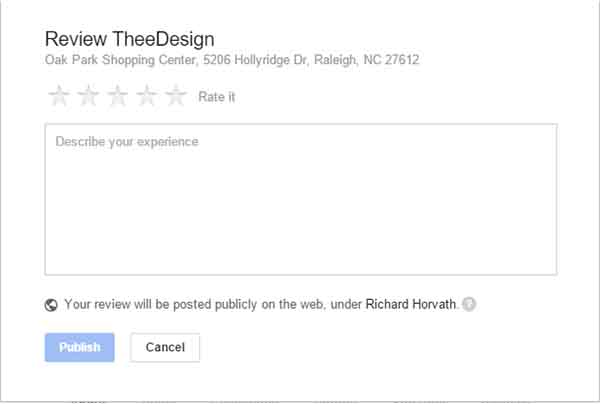 Offer an Incentive for Leaving A Review
People are motivated to do something extra if they see value or how the review benefits them. Offer an incentive, like a chance to win a giveaway or a discount off of their next purchase if they leave you a review. A little bit goes a long way, and those reviews can benefit your business for years to come.
*Be sure to check each review site's guidelines on offering incentives before asking for reviews
Ask, But Don't Be Pushy
It's okay to ask your clients for reviews as long as the timing is appropriate. If and when you request reviews, don't just ask for a good review – simply ask for a review, whether good or bad. Asking customers that you know are happy with your service or brand is a great way of making sure those reviews are positive. Let your customers know that your company values the opinions of its clients and works hard to implement the feedback given.
If you have a sales team, have them mention leaving a review at the end of their sales call or after paperwork is finalized. Asking when your brand is fresh in their mind will help ensure the feedback/review is accurate.
Promote Review Sites to Your Customers
Add a note or instructions on the receipt or final paper work when you finish a job, or deliver a product, reminding your customers to leave you a review. Be sure to point it out and explain that you really value their feedback. If you have an email marketing campaign, or give out appointment cards, make sure you are reminding your customers to leave a review and provide them the link. Remarketing efforts keep your brand in front of their faces and remind them to leave a review in case they meant to do it later and forgot.
Benefits to the Business
Google+ reviews can help your listing climb to the top of the search engine rankings.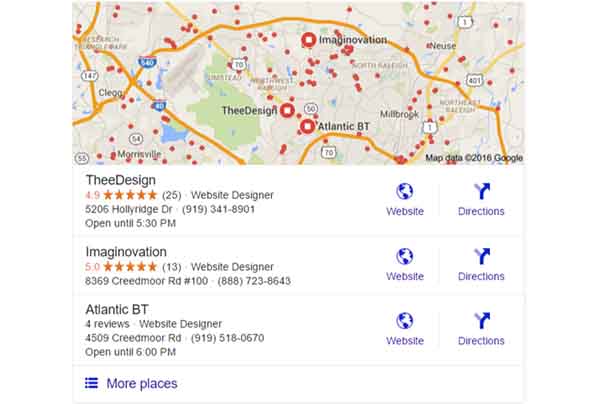 After getting 5 reviews, your Google My Business listing will show a gold star rating, which will help your listing stand out among the crowd.
You can also strengthen your rankings by having reviews on other sites too. For instance, having postitive Yelp reviews can help your Yelp profile show higher in the search engines. You can promote your Yelp reviews by placing a badge on the homepage of your website. Not only does this build social proof, but also improves your credibility to prospective and current customers.
Review Websites for Local Businesses
Reviews almost anywhere can help, but focusing on some of the more credible sites can really help boost your SEO efforts. Below are a few key review sites for all industries:
Google+
Yelp
Facebook
BBB
And here are a few key reviews sites for specific industries:
Avvo – Lawyers
Thumbtack – Home Professionals
Home Advisor – Home Professionals
Houzz – Home Professionals
Healthgrades – Healthcare
Healthtap – Healthcare
Need help getting positive reviews for your local business? Our
Raleigh internet marketing
team can help you with your online reputation management (ORM) strategy, which includes getting online reviews. Call our team a call at
919-341-8901
to start your new ORM strategy to day.