Updated: February 11, 2018
When you search for "local coffee specials," how annoying is it to click on an ad for a coffee shop's 50% off special, only to have it direct you to their home page and leave you high-and-dry to figure out how to find that 50% off deal? You clicked to learn about a coffee special, but were routed to a page that has nothing to do with the promotion.
Congratulations, that shop's competitor just got another prospect, as you likely hit the "Back" button and went with the site that makes it as easy as possible to find that promotional offer.
This is why you need well targeted landing pages for your PPC ads.
The impact of landing pages on PPC
As an advertiser, pay-per-click (PPC) can play a huge role in the success of your online marketing, especially in highly competitive markets. But without targeted landing pages, you could be wasting your PPC budget and missing out on conversions.
Cost per conversion
An appropriately structured PPC campaign with targeted landing pages can have a significant impact on the cost per conversion. In fact, using targeted landing pages with the right campaign structure, we were able to reduce the cost per conversion for a regional retail client from over $650/conversion to under $70/conversion.
---
See how we decreased PPC conversion costs by hundreds for a regional trailer sales company.
---
Cost per click
Just like with organic SEO, you want to get the ad copy and landing page as close to the user's search query as possible. For instance, if the topic of your ad's landing page is "Raleigh Divorce Lawyer," and a user searches "Raleigh Divorce Attorney," you have less chance of your ad showing up and may spend more on cost per click when it does.
Ad position
One of the key factors of PPC is your Quality Score – a metric that relies in large part on the relevancy or quality of your landing pages, and not the size of your budget. Add to that Google's recent update of removing side bar ads on the search engine page results (SERPs), and maintaining a high Quality Score becomes even more essential. Targeted landing pages with relevant content can drastically improve your Quality Score.
User experience
It's not just cost that PPC landing pages affect. A landing page that's relevant to the user's query (keyword) not only optimizes your PPC cost to help you spend less, but it will also lead to a better user experience (going back to our coffee specials example).
What makes a good PPC landing page?
The right landing page can improve the performance of your PPC ads while lowering costs. What makes a landing page so effective in doing this?
Here are three tips for creating a PPC landing page that works:
1. One topic
Your landing page should be centered around a single subject that directly relates to your PPC ad. Advertising car insurance? Create a landing page specifically around car insurance – don't flood the page with information about home or life insurance.
Remember: Users who interact with PPC ads are further along in the buyer journey, meaning they are closer to being ready to take action. So tailor the content of your landing page accordingly.
2. Clear call to action
What is the goal of your ad? Is it to get people to sign up or register, to buy a certain item, or something else? Whatever the goal of your ad is, your landing page must be aligned appropriately. Make it clear to the user what action you want them to take and how to take it. If it's not clear to the user what the next step is, they will likely hit the "Back" button in a heartbeat.
3. No distractions (KISS)
A landing page serves a different purpose than other pages on your website, and so it should be designed differently. A typical web page may have a side bar or a full header with multiple navigation options. A landing page, however, should keep the user as honed in on the offer as possible, making things like side bars an unnecessary distraction.
Learn more about the anatomy of a landing page in our article, "What is a Landing Page?"
Examples of PPC landing pages
Let's take a look at companies who have applied these three best practices to their landing pages.
Auto insurance is a competitive industry where PPC plays a big role, so we searched "car insurance" for this example.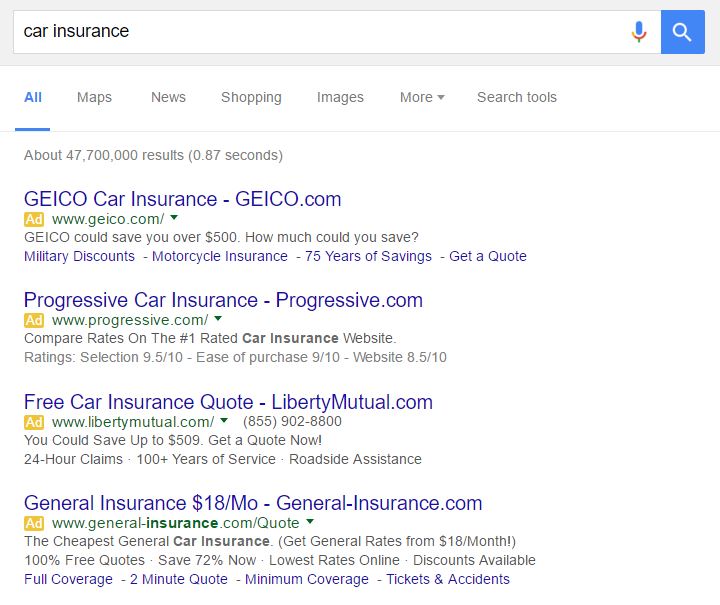 The top three ads are for Geico, Progressive, and Liberty Mutual. All three companies include some the search query keyword in the ad headline and/or ad text, and entice the user with a call to action or selling point like reputation.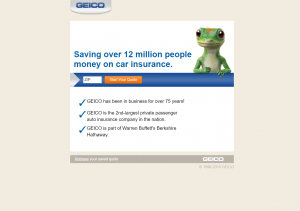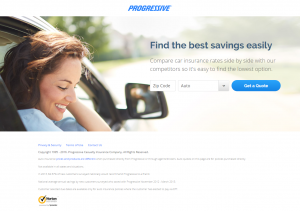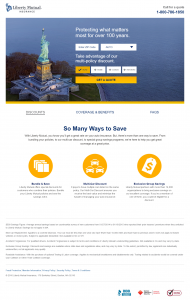 Geico and Progressive lead the pack in ad positions #1 and #2. Both landing pages have a much more simple layout than their main websites — things like navigation headers have been removed to eliminate distractions. On both, it's obvious what the next step the user should take is (to fill out the form to get a quote). Liberty Mutual, which falls short in position #3, gives the user more options on the form itself and also displays more content below the call to action box.
Geico and Progressive designed their landing pages for users towards the end of the buyer journey, who are ready to take the next step. Liberty Mutual did the same, but included more information for users who may still want a little more info before moving forward.
What do you think of these PPC landing pages? How do your landing pages stack up in comparison?
How do you know which keywords to target in your landing pages?
When deciding how to target your landing pages, a good place to start is by looking your main products/services. Each product/service you're advertising should have its own designated landing page. You can also use the Keyword Planner Tool to see which phrases are commonly searched and prioritize which landing pages will be most profitable to create.
Using a divorce attorney as an example, here's a basic outline of how AdWords should be structured using targeted landing pages and the most searched keywords:
Campaign
AdGroup
Landing Page
Divorce
Divorce Lawyer
Divorce Attorney
Divorce Law Firm
www.website.com/divorce-lawyer
www.website.com/divorce-attorney
www.website.com/divorce-law-firm
Notice how the AdGroups and the landing pages are broken down by topic (the one topic rule) and keyword.
Remember: You can only have one landing page per AdGroup. So, we can't create one ad that sends people to www.website.com/divorce-attorney and another ad that sends people to www.website.com/divorce-lawyer within the same AdGroup. This will help you keep each landing page as specific and relevant as possible.
Don't forget mobile! For mobile-only campaigns, be sure to send users to landing pages that are mobile friendly.
Pro-Tip: Automate landing page selection with Dynamic Ad Targets
For websites with a large number of landing pages, such as an ecommerce website with multiple products and categories, AdWords has a nifty feature to automate which landing page Google sends a user to. The Dynamic Ad Target feature automatically selects the landing page that closest fits the user's search query, improving your Quality Score and optimizing your PPC cost.
The moral of the story: Target your PPC landing pages
Using the right landing pages can lead to lower cost-per-click, lower cost-per-conversion, lower bounce rate, and more. Keeping these tips in mind when organizing your campaigns and creating targeted landing pages can help improve the success of your PPC strategy.