As our country prepares to celebrate Independence Day, our Raleigh web design and internet marketing team expects celebrations to be bigger and better than last year. The city's Fourth of July show moved last year from the State Fairgrounds to Downtown Raleigh's Fayetteville Street. Moving the event helps business development for downtown and brings traffic to the area with another major downtown event.
The Best Places to Watch Fireworks in Raleigh
The Works, Downtown Raleigh's new Fourth of July celebration, has plans for two firework show this year. With festivities starting at noon, there is plenty of all-day fun for the whole family. The Works will have more than 100 art and food vendors, a beer and wine garden, activities for the kids, 16 live bands, and two firework shows after dark, as well as the downtown bars and restaurants.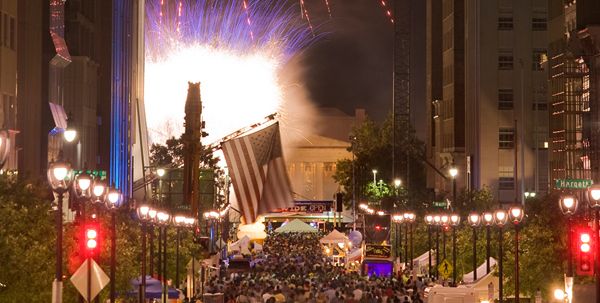 The first fireworks show will take place at 9:15 and be launched from the Duke Energy Center for the Performing Arts parking lot and will be best seen from Fayetteville Street. A second fireworks show will take place at 10:15 in the Red Hat Amphitheater area. This show will be larger, have a higher reach, and will be launched in an open area rather than around the downtown skyscrapers.
For those who prefer to avoid the downtown scene, or would rather stay closer to home, Brier Creek Commons Shopping Center will have their annual fireworks display. Brier Creek Commons is full of restaurants and shops to entertain the whole family during the day and will start the fireworks display at dark. The display can be seen from the parking lots of both Brier Creek Commons and Brierdale Shopping Center.
The Best Places to Watch Fireworks in Surrounding Areas
There are numerous Fourth of July celebrations in Raleigh's surrounding areas as well. The Town of Cary will have a fireworks display at Koka Booth Amphitheater. Activities for the kids and whole family begin at 3:00, with fireworks at 7:30. Morrisville will hold their celebration on Thursday July 3rd at Morrisville Community Park. Fuquay-Varina will have fireworks at South Park on Thursday, July 3rd and Garner will have their fireworks display at Lake Benson Park on the 3rd. Holly Springs celebrating on July 5th at Sugg Farm Park. Chapel Hill residents can see fireworks at Kenan Memorial Stadium on Friday starting at 7:00 and of course our Durham Bulls will be having fireworks after their game on both Wednesday and Thursday. What could be better than baseball and fireworks?
With opportunities all over the Triangle throughout the whole Fourth of July weekend, there is sure to be something for everyone!